I don't think Ben or I have stopped smiling since the first baby was born yesterday. I know I am their mom so I am biased but they are all soooooo cute! I cannot wait to go see them today and hopefully hold at least one of them. I have been up since 5 am waiting to go but Ben is still sleeping. He had a long day yesterday too so I want him to sleep.
It all started Tuesday night around 10:30, I became very uncomfortable and couldn't move around with out lots of pain then contractions started. I waited until 3 am and called Ben and my dad to get down here, I was afraid if they left at 7 as planned Ben would miss it all. I went to ultrasound at 8am and Ben walked in about 15 minutes later, I was so relieved that he was there all I could do was cry. Within then next hour we learned Aubrey's flow was still absent and we would be delivering. I was so scared! Even though I wanted them born I wanted to hold them in as long as possible.
The got us to labor and delivery and prepped me for the c section. Time moved soooo slow! When they took Matthew out he began to cry immediately and so did mommy and daddy. We have never heard a better noise! All of them had their turn crying then Ben and my mom got to go over and see the babies and take a couple pics while I laid there and the nurses brought them to me.
After recovery Ben and I got to go see the babies for about 15 minutes each then he took turns bringing all the grandparents, aunts and uncles up to meet them. He was beat from all the running around but when the nurse said I could take a quick trip down to see them he never even hesitated about naking the loop one more time.
I began pumping last night and was surprised that I was able to express a little each time. The NICU nurses call that liquid gold and said even enough to give them on a qtip will help. I am so happy to be able to give them a better start by pumping for them!
They all scored 7's on the first apgar and 8 on the second which we were told is awesome for preemies and multiples! All four are doing well! As of last night two of the babies were on CPAP and the other 2 were being given surfactant through their tubes in their throat. Now for the moment you are all waiting for...PICTURES!
Matthew 11:31 am 4 lbs 3 oz 16.5"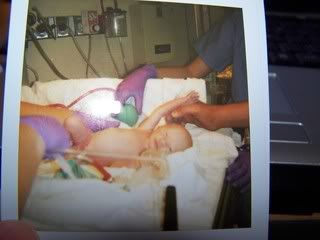 Brady 11:34 am 4 lbs 10 oz 17.5"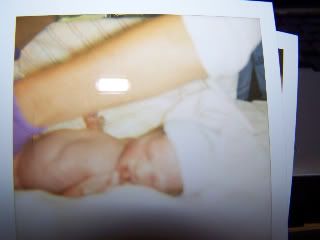 Aubrey 11:35 am 3lbs 1 oz 15.25"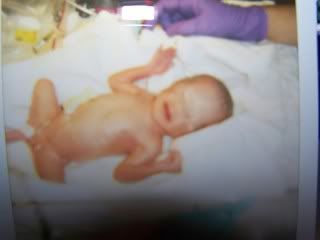 Cameron 11:37 am 3 lbs 11 oz 16.5"