Although this isn't technically their first Halloween it is the first time we got to let them celebrate Halloween. Last year we had just been home from Boston for 9 days and we were being very cautious not to let them get the flu or RSV so we just stayed inside at Uncle Tom and Auntie Kate's and watched the trick or treaters go by.
This year was sooooo COLD! We dressed the babies in socks, fleece feetie jammies, a sweat suit with hood then their costume and gloves. We wanted them to be warm but they still seemed cold so we did a quick walk around, less than 20 minutes then back home to warm up but we did attend two Halloween parties with costume contests and were lucky enough to win Most Original at both! Auntie Sam and I were pretty proud that our handmade costumes were a hit! Ben did a great job configuring a basket out of a cardboard box that we wove paper bags on and trimmed with scrap wood to make a perfect basket for our little fruits.
I have so many ideas for theme costumes future years to come so I hope that they never see that there a costumes at a store that they can pick from or else I am going to be one sad quad momma! LOL!
The cutest fruit basket ever!
My crazy banana...Matthew!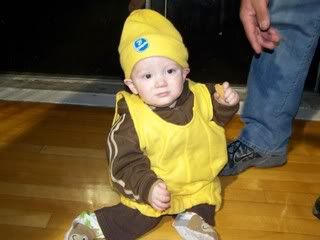 One of the four apples of our eyes...Brady!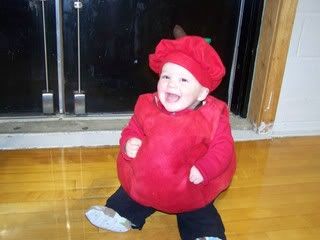 Our little Aubrey Peaches!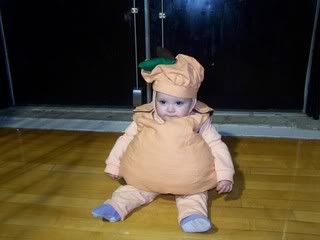 Our sweet little grape...Cameron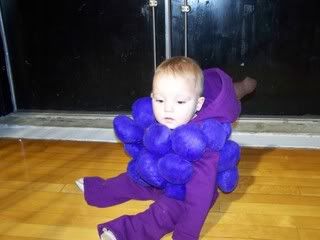 Had enough trick or treating!