The six of us loaded up yesterday and went to see Lauryn perform in her dance competition in Concord. Cameron loved watching them dance and the others did too but they weren't as happy to just sit and watch the performances. Lauryn did a great job and earned two 1st place and 2nd place overall! We were so proud of her!
After the competition we headed south to Chuck E Cheese. The place was packed and the quaddlers did awesome waiting in line until it was our turn. We had a quick bite to eat then off to play for a couple hours. The time flew right by as they were having so much fun. Matthew decided that he was bored playing so he decided to pick a couple fights. Ben had to pry him away from one kid that he tackled to the ground while he was trying to kiss. Another time he pulled Matthew away from a kid that he had pinned in the corner trying to kiss. I can't wait for the day someone kicks his butt, he thinks he is so funny attacking his sister and brothers all the time! Brady spent much of his time flirting with some little girls and going on the slide. Aubrey and Cameron had a great time playing in the big climber with Emma and Lauryn.
I had a little amusement watching a singleton mom push gigantic stroller in that little play area with a huge purse on one shoulder, a humongous diaper bag on the other and trying to chase her toddler that was around the same age as the quads. We literally walked in there with us each holding the hands of two babies and a small backpack of gear.
The ride home was long. Ben and I were both exhausted and it was 7 pm before we headed out from our final stop. Luckily the babies all stayed asleep enough that we were able to change their diapers and put them into bed and for the second day in a row they stayed in bed until 6:30 am! That is sleeping in to us when we are used to them being up by 5:30. I am not counting on it but I would love if this trend kept up!
Ready for our road trip!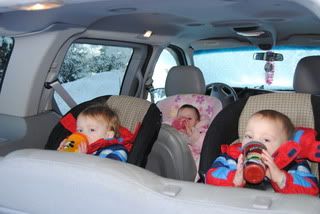 The dancer!
Pig Pile on their buddy Matty!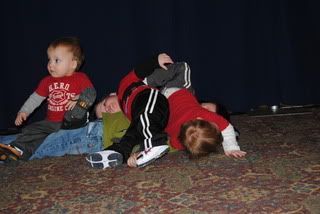 Mommy and her fav four at Chuck E Cheese!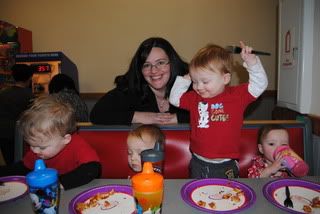 Daddy and his rescue crew on the fire truck!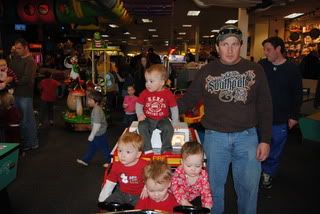 Playtime!