Our weekend days are usually filled with tons of activities and running around like crazy however today we had nothing planned, groceries were already done and Ben was heading to the race track so the kids and I, and my nephew Zachary got to spend a quiet day at home. It was kind of nice to just hang out and play.
We spent the morning chilling out around the house, had some lunch then down for a nap. Amazingly all 5 children all slept 2 whole hours! While they slept I filled up the kiddie pool for them to splash around in. They had fun splashing each other, swimming and sliding into the pool. I planned on bathing them before bed but suddenly had an idea to cut out some time in our nightly routine and bathe them in the pool then rinse them off with some clean water. They thought I was a little crazy but it worked!
When we came in Cameron was asking "What's that Momma?" and pointing on top of the fridge and I said "Play Doh" to which Cameron said "OH!" like he didn't already know! So I asked if he wanted to play and of course he said "OK" that kid never says yes. So we played with it and cut it into all sorts of animal shapes which was so fun and Brady said "There zoo on the table!" So smart!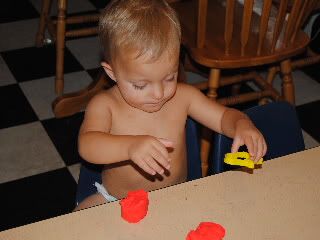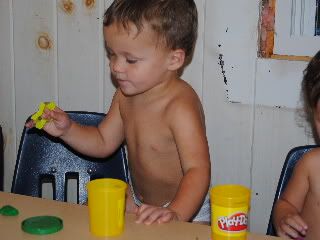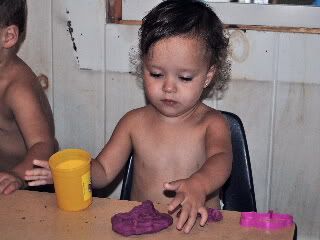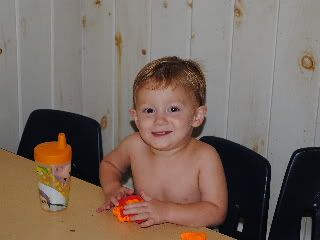 Just for fun I weighed them before putting their pajamas on and Ben helped me measure them. I am sure it is far from accurate, especially on the height but I just wanted an idea of where they are at!
Matthew- 26 lbs 4 oz 33.25"
Brady- 31 lbs 12 oz 35.5"
Aubrey- 23 lbs 2 oz 32"
Cameron- 28 lbs 4 oz 33.25"
We had such a fun day hanging out and I enjoyed having a down day with them!