I wish it were labor day for us! LOL! Actually things are going well and I am feeling pretty good. My blood pressure has been back down and my swelling is mostly gone so who knows how long these babies are going to hang out for. The longer they are in the less time they are in the NICU and the healthier they will be. I have a bpp ultrasound today to see how the babies are doing and Wednesday we are doing weight checks again. I can't wait to see how much these little ones have grown!
The NICU is still overflowing today, they have 70 babies in there with room for 64 so there is another reason to hold them in another couple of days! My OB will be back to work Wednesday and we are VERY happy about that.
Ben has been adventurous walking around and finding some stuff close to the hospital, his favorite hang out? 7-11! I think it is because of all the non neutrapenic food they serve and if he eats it while he is out I can't yell at him for it. He says people from Boston aren't very friendly, he tries talking to them all and and no one talks back. I told him they probably think he is a crazy person! LOL! I am surprised that he hasn't walked the other direction to the food court because there are like 10 fast food places there, maybe he is getting his strength up to do that.
My mom thought it would be a better shot to show just how big my belly actually has gotten by taking a picture as I was getting out of the pool the other day so here it is...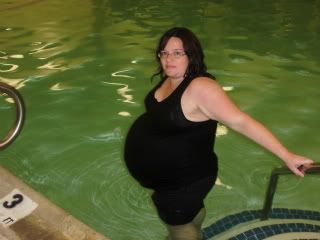 Update: They all passed with 8/8 again! We couldn't ask for any more perfect babies!