To celebrate their big day they all graduated into the intermediate section of the NICU where they go when they are not in critical category and they are just feeding and growing so they can go home as soon as they are spell free and eating fully on a bottle or breast. We don't want to get our hopes up too much but it doesn't look like it will be 6-8 weeks before we are home.
Today Ben and I did kangaroo care with all of them and learned who gets along and who doesn't...LOL! It was my day with Brady and Matthew, both of them love to cuddle! They snuggled in and napped most of the two hours I held them.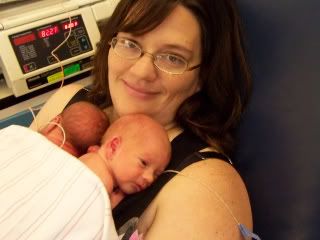 Ben had Cameron and Aubrey, those two are going to be trouble! Aubrey is a daddy's girl, whenever he holds her she stares up at him as long as she can. Cameron is not happy to share his snuggle time and was doing all he could to move as far away from his sister as possible. The nurses kept moving them into the center of Ben's chest and Cameron kept kicking Aubrey and scootching himself over as far as he could into Ben's armpit. Aubrey kept grabbing hold of Cameron's cords that keep track of his heart rate and breathing.
Finally they fell asleep, all 3 of them!