The softball tournament was today it was 10 hours long and Ben and I both made it through the whole thing! I am sure that Ben will be sore tomorrow, he did far too much walking around. I am glad to see he was feeling better after how the first part of the week was for him.
Ten teams registered today and everyone seemed to have a great time playing ball. We would like to thank everyone who came out today to play, donate their time to working the tournament and those who came to support the players and the cause. We would also like to send a special thanks to...
Lee and Tracie Lambert for organizing the tournament.
Wayne and Farron Deyette for manning the grills and making sure everyone was well fed.
Jason Gaudette for getting all the prizes for the raffle and for donating the proceeds from the 50/50 back into the fund.
Bobby Simpson and Deanna Scott for donating the winnings from the Home Run Derby.
The Axle Surgeons Team for Donating the trophy back to our family, it will be a treasured keepsake to rememeber the tournament by.
We are very touched by the generousity of our friends, family and community members. We will never be able to thank everyone enough for everything that has been done.
The winning team...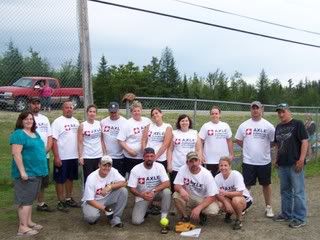 Giving Ben the trophy for a keepsake...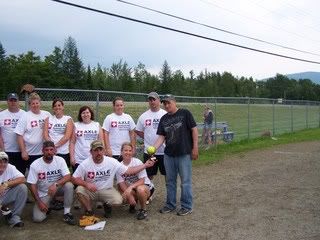 The runners up...