Ben and I couldn't get dinner reservations at our favorite restuarant so the choice was go with a lesser option or go New Years Day instead so we choose to go with option two and spend New Years Eve with the kiddos.
Typically I make a well balanced dinner ever night but to celebrate we did just an appetizer buffet and the kids loved it! We had cheese, crackers, keilbasa, chips, dip, popcorn, blueberries, grapes and apples. We still had most of the food groups represented after they drank their milk but it was just a junkier version. The only thing I needed to refill though was the fruit plate...they went right to town on that!
They all sat and waited for me to bring out the food then got very excited when I told them they could go up and make their own plates with whatever they wanted!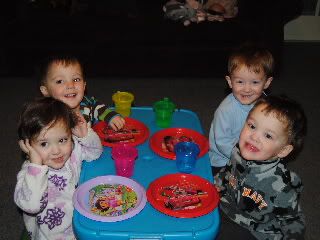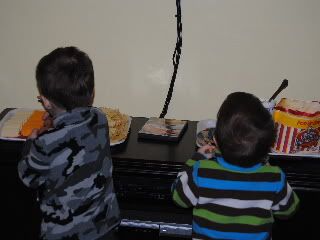 Aubrey must have been trying to watch her girlish figure on her first trip up...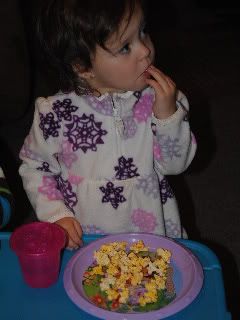 While Brady took as much as he could fit on his plate!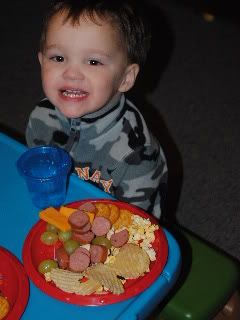 We did dinner and a movie...a big treat! Cars was a hit!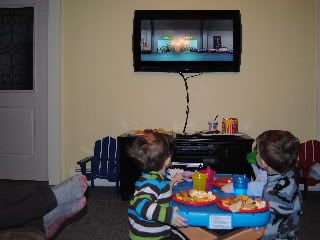 After the movie we got the quaddlers dressed for bed and teeth brushed before setting up the airbeds on the floor for a camp out. We told them if they laid down we would let them watch Aubrey's Tinkerbell movie so they were excited about that idea!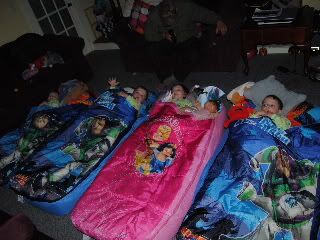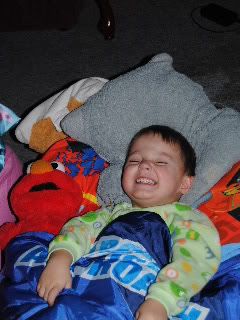 Let me say that them laying down did not last long! Thankfully Tinkerbell is only an hour long movie because when it was over I said "Ok, let's go to our cribs!" and they actually went and went to bed without a peep. It was an hour later than regular bedtime so I am hoping for an extra hour in the morning...it NEVER works that way in our house though, it usually means an even earlier wake up time.