Christmas Eve we spent the afternoon and evening with Ben's side of the family. It was great to get everyone together and the kids loved playing with their little cousin Aidan.
Matthew and Aidan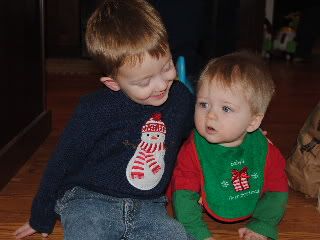 Aubrey and Auntie Kate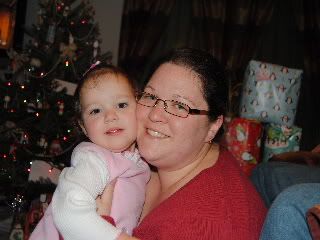 Uncle Tom with Cameron, Brady and Aubrey
Matthew with his Aunt, and Godmother, Allison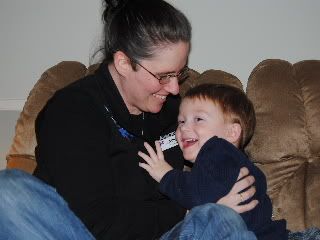 For the past few weeks Matthew and Cameron have been playing "baseball" with a bouncy ball and some dinosaur puppets. They have a blast doing it but they were thrilled when they recieved some real baseball gloves and balls. I am eager for spring to be here before we end up with broken windows or other household items because their aim is not quite there yet!
They also got new big kid bed sets. They were so excited to have me put them on their cribs and I cut a deal with them that if they can start going to bed like big kids without crying or fits then we will turn their cribs into big beds...so we should be set until 2025 or so. The boys all got Cars sets and Aubrey got her favorite Tinkerbell. Matthew and Aubrey switched cribs (shockingly) so I will be able to decorate one part of the room in girlie Tinkerbell and the other in Cars. That should buy a little time until they need to be seperated into their own rooms.
Another fun gift they recieved Christmas Eve was their very own sleds. They all said "No we can go sledding like OSO!" I don't let them watch very much TV but they do love OSO and they learn so much from him.
Sledding around the house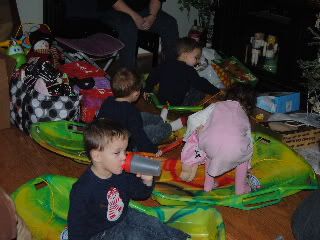 Having a little snack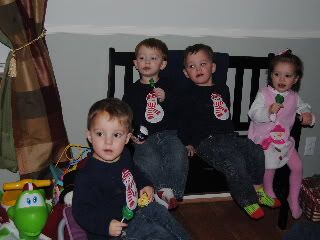 Finally it was time to come home and put on our special Christmas jammies and get cookies and milk ready for Santa. Off to bed they went with much excitement for Christmas morning!