For my Grandmother's 80th birthday in October we bought her a frame with a saying on it about four generations. We hadn't taken a picture to put in the frame yet so I thought today would be a great day to do it since we were all together for my nephew's 1st birthday party. It is so hard to get a good picture when there are four one year olds you are trying to get to sit and look at the camera so this was the best we got.
The kids had a great time playing at Zachary's birthday party and did pretty well considering that they missed their normal nap time. I think they had more fun playing in his room than they did seeing him open gifts. I was really hoping that they would be tearing up the place for Christmas but now I am not so sure. Happy 1st birthday Zachary!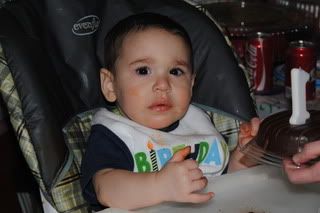 Tonight we went to the Make a Wish dance recital. All the dances were made up by the children and all the proceeds went to the Make a Wish foundation. It was a terrific time for a fantastic cause. The babies loved the music and were dancing along! They were much better behaved than at the Christmas Concert last week! The dances were fun and original...Great dancing Colin, Parker, Lauryn, Khaley, Lukas, Christian and Gavin!