Technically the quaddlers are only 14 and a half months but they had their 15 month appointment today and all checked out great! The only have 1 more shot to get at their next appointment then they are set until just before school. So happy about that! They hate getting shots and I hate seeing them get them.
Every one's lungs checked out great and so did their ears so the fussiness and constant whining Aubrey and Cameron have been doing is nothing major. The doctor warned us that on average kids get 14 viruses per year and they tend to cluster in the winter. So we are hoping that if one gets it the others all get it at the same time or else we are looking forward to a winter full of sick babies every week!
They all still have head circumferences in the higher end of the percentile curve, must be they have lots of smarts in their brains...LOL! Apparently my scale is a little off or they all lost weight, either way their official stats are as follows:
Matthew
22 lbs 5 oz 25th percentile
30" tall 25th percentile
18.5" head circumference 50th percentile
Brady
26 lbs 13 oz 80th percentile
32.5" tall 90th percentile
19.25" head circumference 95th percentile
Aubrey
18 lbs 55 oz 8th percentile
29" tall 25th percentile
18.25" head circumference 75th percentile
Cameron
22 lbs 7 oz 25th percentile
30.5" tall 25th percentile
18.75" head circumference 70th percentile
A couple shots from today...
Matthew up to no good!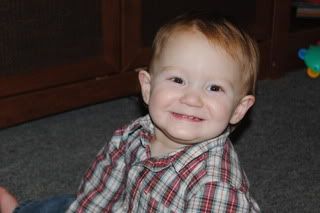 Brady stuck in the Bumbo...or has he says "kuck"
Aubrey smiling for one of the few times this week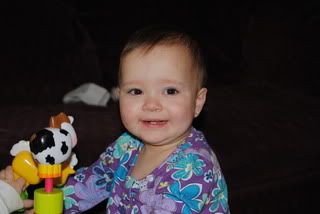 Cameron fell asleep while listening to the bears tell "Twas the Night Before Christmas"