I saw a post on facebook by my friend, Karen, about making Cinnamon Applesauce ornaments that looked very simple so I figured I would give it a try. I was so mad at myself when we were done because I had forgotten to take pictures through each step so all I have is a picture of the final product. I do have to say they were so easy and came out adorable!
Recipe:
2 cups Applesauce
2 cups Cinnamon
2 tablespoons of Elmers glue
Bake at 200 for 1 hour then let dry overnight before painting with glitter glue.
Our next craft came courtesy of Grammie Charlotte finding it on facebook. This one I remembered to take pictures of!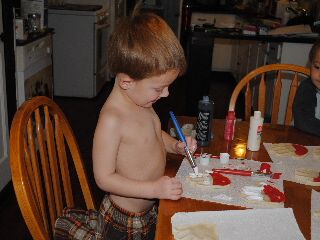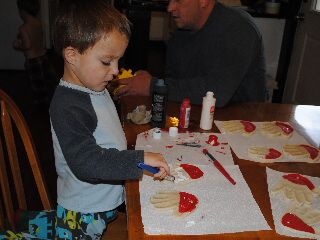 Recipe:
1/2 cup salt
1/2 cup flour
1/4 cup water
Knead until a dough forms then roll out. Make an impression and cut out around the handprint with a knife leaving a border. Poke a hole at the top for hanging then bake for 3 hours at 200. Paint then seal with Mod Podge and hang!