This year has been the BEST year so far with the fab four...they are totally excited about the magic of the Christmas season and have enjoyed every single moment. I would love for them to feel this way every Christmas for the rest of their lives!
Coming down the stairs to see if Santa came...then Daddy ruined the video ...
So excited to see all the presents!
The look on their faces was worth every single penny spent...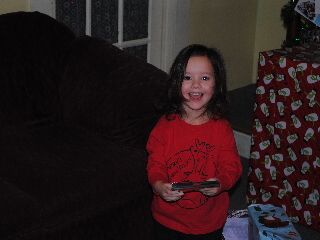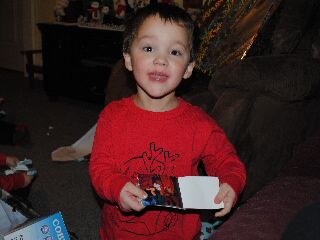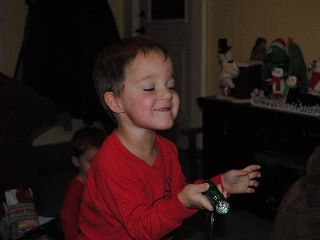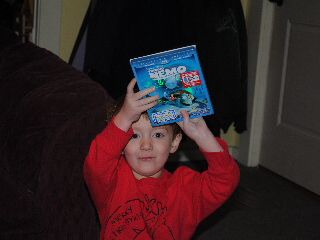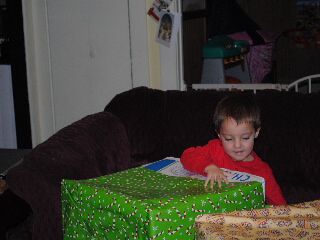 Matthew aka Mr. Pokey Pants...opening his favorite movie Over the Hedge!
They love to work on stuff with Daddy so these little tool boxes were a huge hit!
New car seats!!! Brady sat in it and said "MOM! I have ROOM!"
The Princess opening her Princess Dress Up Trunk!
I took the foursome out shopping for Ben and he did the same for me. They put a lot of thought into each of their gifts and were very proud to give them to us!
Cameron gave Ben a blue flash light because black and blue are Ben's favorite colors and there were no black ones!
Aubrey got Ben a hooded flannel jacket. She said he needed one because he never wears a jacket!
Matthew gave Ben some yellow sleep pants...so Ben can give them back when Matthew is big enough to fit in them!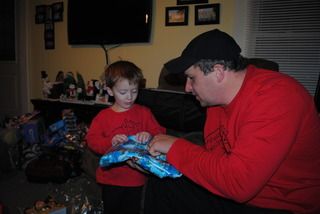 Brady gave Ben a camo shirt because it is like the camo shirt that the boys wear and daddy told them he liked them!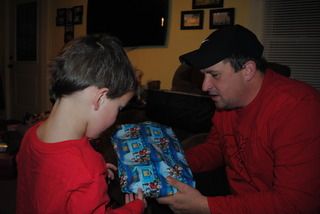 Matthew gave me a new kitchen clock because my old one broke!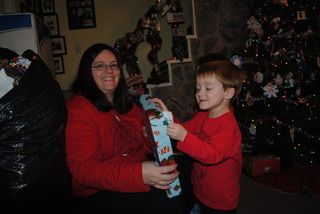 Aubrey gave me some new pink rubber clogs that she loves to wear around the house!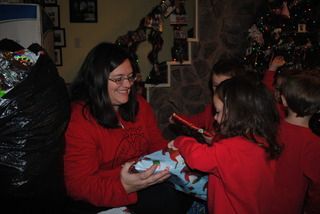 Brady gave me a new cookbook...so I can learn to cook some suppers!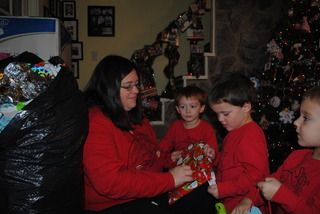 Cameron gave me a green pan because green is your favorite color, right mom? Ummm...sure Cam!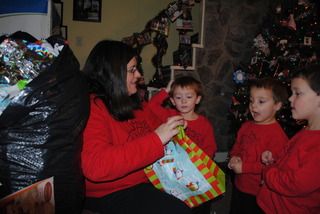 Our final gift was a family gift for all of us from Grandma and Grandpa Reynolds...we cannot wait to go out and camp this summer!
After gift opening was done we headed out in the kitchen to find that Santa not only ate his cookies and drank his milk but left them some new mugs, packets of hot cocoa and a little note!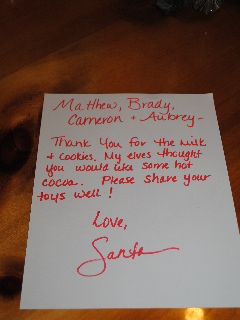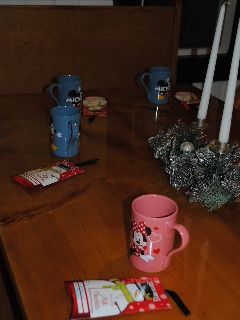 Then we got dressed and ready for the day. Aubrey is always a willing model...the others took some convincing but we got an ok photo!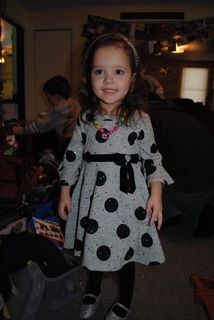 Then our cousins came to celebrate and we tried to get a group picture...try is the key word!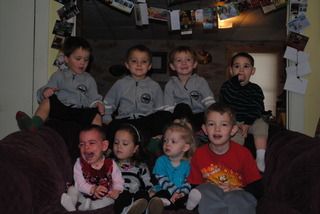 Finally it was off to Grammie and Papa Amadon's for lunch and the last of our celebrating before heading home to play with our new stuff. They are already asking if Santa was coming again next Christmas Eve...it's gonna be a long year!