The very first recital we brought the kids to was the Make A Wish benefit when they were not quite 3 months old. Since then we have gone to many recitals and competitions and the kids have loved watching their big friends up on stage. Since May when Dance Images held their annual recital the foursome have been talking about taking dance so now that our Disney vacation is over my Scentsy commision is going towards paying for their dance classes and the costumes that they will need for their very first recital.
Last week was their first week and I was surprised how well it went. I figured at least one or two wouldn't actually do it but they all went in and participated until the door opened for the kids to come get a drink then Matthew came out crying. I finally got him back in and quietly snuck out the door and her finished out the class. Aubrey was very upset at the end of class and told me she couldn't go back until she had a "dance dress" like the other girls in her class. I wasn't sure what they were supposed to wear so I just put all four of them in comfy pants and tees...obviously this wasn't the proper attire for the dancing princess! So we found her a dance dress and she was ready to go back this week.
They all went in great and I was so happy until about 10 minutes in I heard Matthew crying and he came running out. I finally talked him into going back in and joining as long as I sat in there with him but that made Aubrey refuse to participate. UGH...hopefully three is the magic number and they will all stay in and learn some new moves!
The foursome just before class!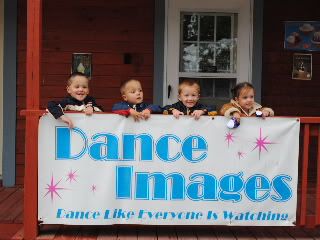 Getting warmed up!