The kids always want to play with their cousin Zachary, or Zacky as Matthew calls him, and after his visit a couple weeks ago when he wanted to stay over night we made plans for him to come have a sleepover. The kids have been excited and I used the "Zachary is coming for a sleepover Wednesday if you guys can be good" many times this week and it worked...now I need to come up with a new bribe!
They played all day with the day care kids then after supper Ben made popcorn and put on Toy Story 2 for them. I love how they all attempt to say Buzz Lightyear!
Aubrey: Bye Biteyear
Matthew: Buzz Year
Brady: Buzz Biteyear
Cameron: Buzz-Eye-tear (all one word!)
When it was time for jammies Cameron was not very happy to see that Zachary had Elmo jammies and he had monkey ones so I had to go upstairs and trade his jammies in for Elmo one which resulted in me trading Brady's in for Buzz and Matthew's in for McQueen. Teeth were brushed, five bedtime stories were read, hugs, kisses and pictures were taken then it was tucked in and off to sleep.
I can't believe 5 kids in one room and they all went to sleep so well!
Popcorn and movies!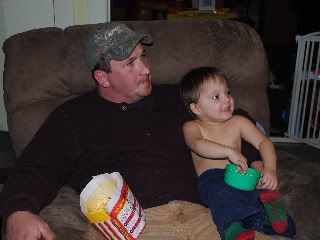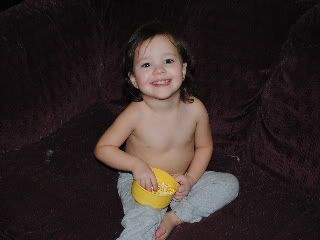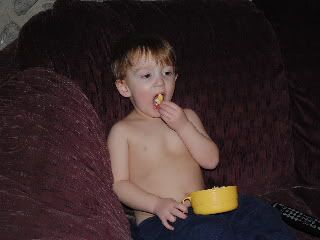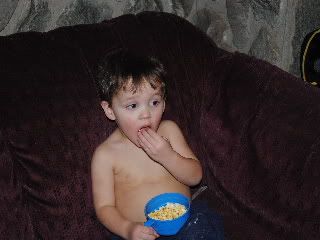 Five little monkeys sitting on the bed!
Chatting it up!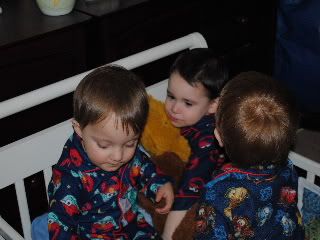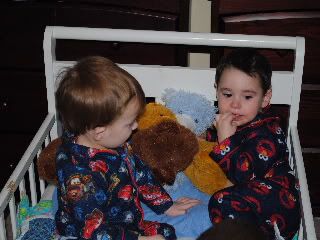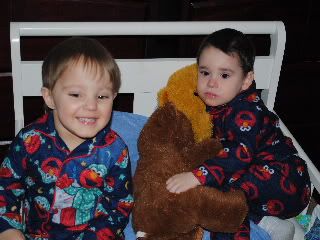 Lots of love!