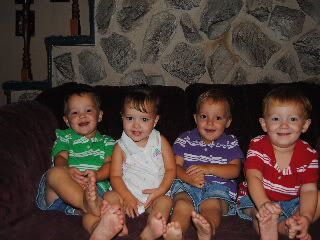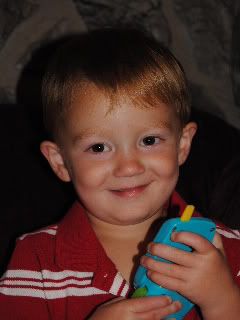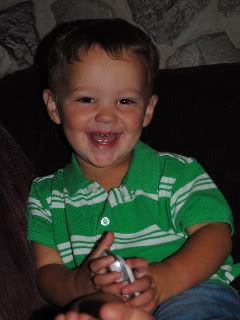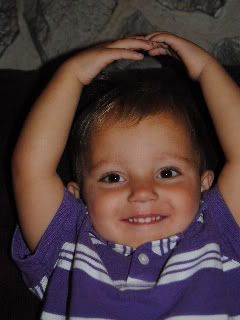 One month until birthday #2. Can someone just stop time now??? I am not ready for these babies to be two. Well, we are ready...the party is planned, the invites are out, the wish list is done, the birthday shirts are in...I am just not emotionally ready to completely let go of the idea of having one year olds.
I am so proud of all the accomplishments they have made this past month. Their speech has become so clear, they have been speaking in sentences, they are using their imaginations to tell stories and be funny. I was so worried about Cameron and this month he has made leaps and bounds in this department. I am so proud of him for working hard and struggling his way through.
We have been practicing using big kid cups at the dinner table a couple days a week and when they decide to keep their forks and spoons out of them they are doing pretty good. Matthew has mastered the technique and hardly spills a single drop.
Nearly every morning the kids watch Mickey Mouse Clubhouse or Special Agent Oso, aka Oso Special. When the characters as questions or play matching games Brady always answers them and most of the time he is correct!
Aubrey is such a little mother hen! She loves to play with babies and take care of them like she is their mommy. I am glad she likes to be a little girlie girl.
We have been working on colors lately and they are all doing well identifying at least one color. Brady most of the time can pick out blue and green, Cameron picks out blue, Matthew picks out red and Aubrey pics out purple.
It is amazing how big they have grown and how differently each of their personalities have developed them into their own person. They each have their strengths and their weaknesses. They each have little traits I love and little traits that drive me nuts but I love all four of them soooooo much!