Ben's family is camping this week at Bailey's so we decided to join them for the night. The kids had a great time playing and swimming at the campground but bedtime without any cribs or pack and plays was quite the adventure. This has cemented my thought that they should really be in cribs until college. They thought getting up and jumping on their siblings was the thing to do! After about 45 minutes of wrestling, laughing and bossing each other "I tell Mommy!" "No, I tell Mommy!" "I had it first" they finally fell asleep.
Matthew woke up around 12:30 and he obviously thought 3 hours sleep was sufficient for him. I ended up bringing him into bed with me so he wouldn't wake everyone else up and I honestly don't think he slept any after that. I kept waking up to him 2 inches from my nose saying "Hi Mommy!" Makes me a little nervous for our tenting adventure this weekend!
We got to get them into the pool with a lot of extra hands and Brady mastered his Puddle Jumper! The other two boys were getting pretty brave with theirs as well. Aubrey, well, she had Uncle Tom and Auntie Kate there so she couldn't possibly handle doing anything herself...she knows how to wrap them around her finger.
The next day when it was time to pack up and head to the beach before heading home none of them wanted to leave. We all wish we could have stayed longer but there are these little things called jobs that we had to get home for so we are able to do these fun things.
Swimming!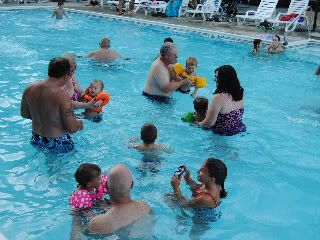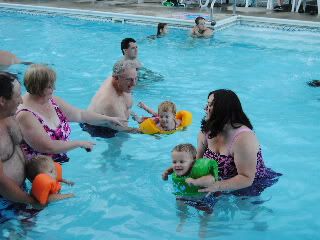 Uncle Tom and Aubrey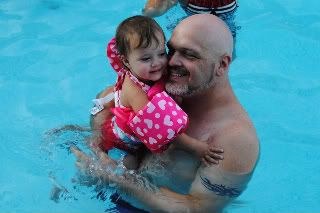 Daddy and Cameron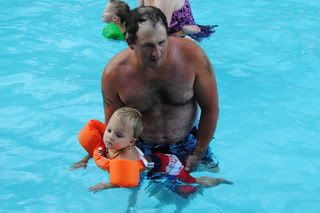 Grandpa and Matthew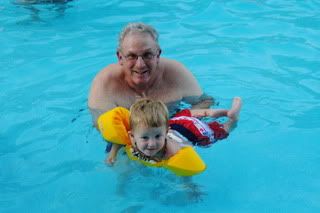 Crazy Matthew!
Mommy and Aubrey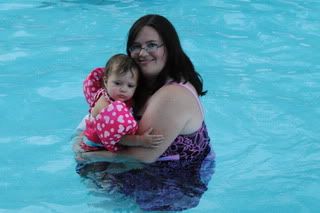 Auntie Kate and Matthew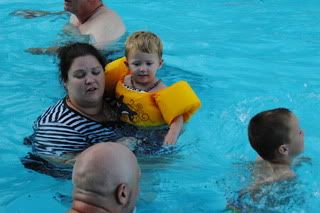 Grandpa and Cameron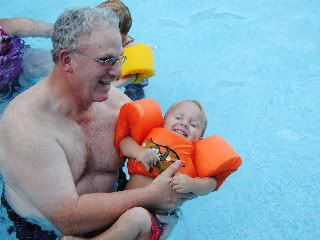 Brady and Mommy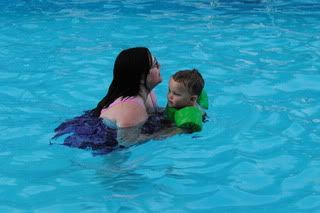 Waiting for some ice cream!