So this is kind of what it looked like in the tent when we were trying to get them to lay down...one tired quad momma plus four babies thinking there is no way that we are going to make them lay down when they have all this freedom! Don't you love Matthew trying to explain to me why he can't go to sleep in the tent?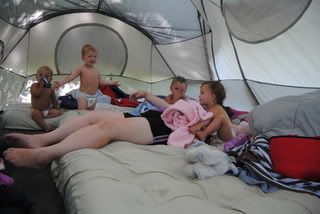 Our morning started bright and early but hey, all our mornings do so that was nothing new. To our surprise the quaddlers were all in great mood for having no sleep! They wanted to have a fire so Ben built them one and they sat in their little chairs eating breakfast.
Ben and I were both in need of a shower so I had put out the crayons and coloring books that I brought and let them color on their little picnic table. That was going great until Aubrey spotted the Play-Doh! Immediately crayons were no good any more and they all wanted to get into the Play-Doh. It amused them for a few minutes until Brady dropped some on the ground and saw that he could cover it in dirt and just had to show the other three how to do it. Needless to say that stuff went straight to the trash when they were done using it.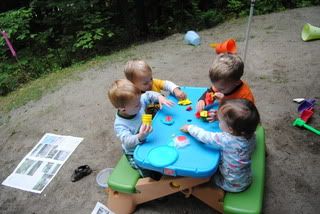 After our showers we took them on a walk...without the stroller or wagon. Ya, I am thinking we had totally lost our minds by this point! It started out great, everyone wanted to hold hands and walk.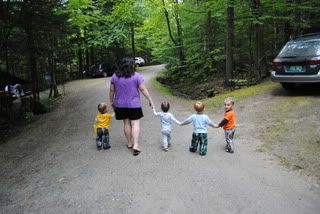 Then Cameron decided his new hobby was collecting rocks then dumping the bucket and collecting them all again! Brady decided to help him out getting all the rocks into the bucket while Aubrey and Matthew looked on like they were crazy!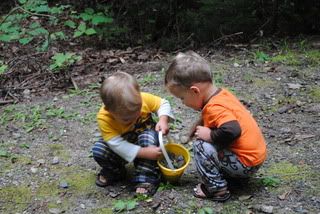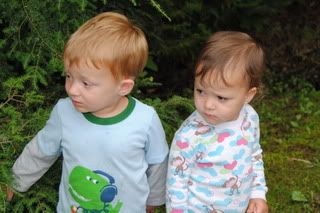 One, Two, Three Jump!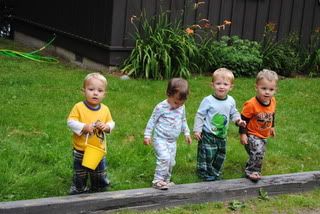 Matthew decided he needed a little break and wasn't moving until he was good and ready.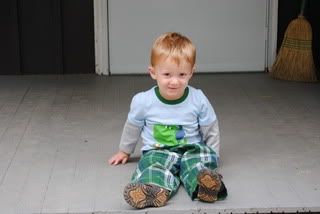 Aubrey let us know she was "going get Mattchew!"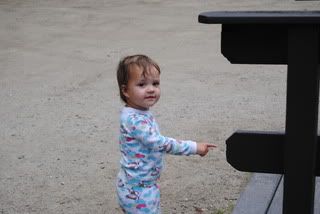 Brady walking like a big boy.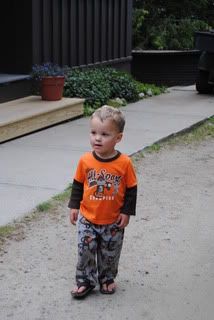 Cameron carrying a bucket of his latest obsession...ROCKS! Little does he know his college fund just got cut in half to fix the pain on my new van that he decided to draw on with his rocks.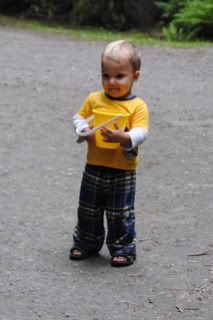 We told them all if they were naughty we were going to put them in the cage. They showed us by getting in and shutting the door behind them!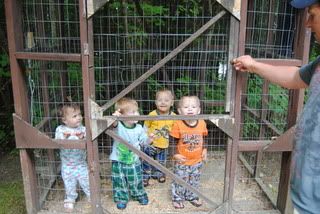 We attempted naptime, which went better than bedtime but they discovered the air mattresses were like their bounce house and thought jumping from one to another was the cool thing to do. Cameron jumped then just stayed down and fell asleep, soon after Brady did the same. Ben ended up laying with Aubrey and the two of them fell asleep and finally Matthew gave in and fell asleep too. I of course couldn't manage to get to sleep before Kyle, Evan and Ella came for a visit.
When the kids woke up we went down to the big beach and was surprised to see how much they had let it go. It used to be a nice beach but now grass is grown up on the beach and it isn't very well maintained.
The kids had a great time there playing in the water with daddy!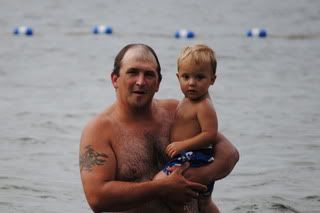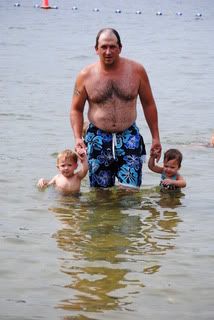 Brady thinks he is bigger than the others and "I do myself" has been his catchphrase lately.
Can you say hot mess?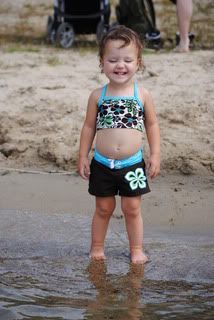 Mr. Cool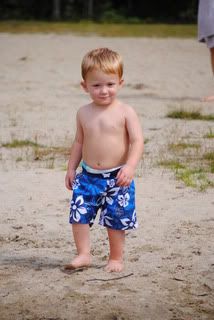 Cameron decided to dump water over Ben's head!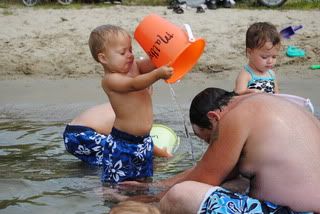 Daddy getting Cameron back.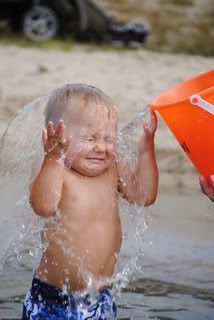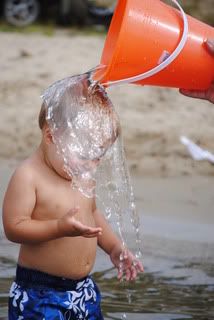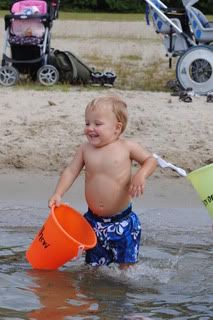 Brady wanted in on the fun!
Aubrey dumping a waterless bucket over her head.
Matthew minding his own business!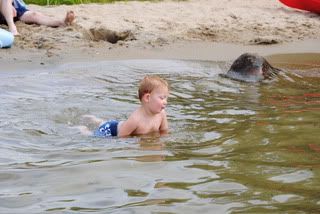 We listened to the weather forecast for the night and the next morning and decided it was best to pick up camp and go home so we weren't stuck picking up everything wet and having to reset it up at home to dry out. I can't say that I was sad to get to sleep in my own bed and have the kiddos in their crib sleeping soundly through the night. Good thing our next attempt at camping will be next summer, by then the memories should have faded enough that I am ready to try again!