I must start off by saying we are typically very brave and love to bring the kids on new adventures often but my word of advice to other parents of multiples is that tenting in sleeping bags with four nearly two-year olds is definitely not recommended if you would like to allow your camping neighbors a peaceful night sleep!
The day started off great! We got there and started setting up camp. I unpacked the van, the kids ran around and Ben attempted to put up the tent, a few other people from our town were there, saw Ben needed some assistance and came over to help get it set up. Within an hour we were ready to sit back and enjoy some relaxation in the beautiful setting of Maidstone Lake.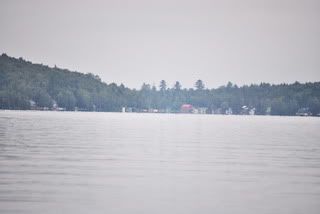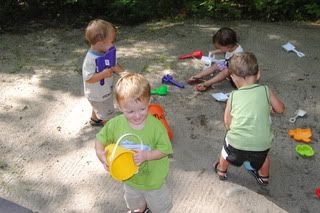 What is better than a picnic for dinner? They were so excited that camping dinner consisted of CHIPS...their new favorite food to ask for!
After dinner we took a walk down to the lake with no intention of going in but the kiddos had other ideas so they ended up in the lake with diapers only. They were amazed by the huge frog that was down by the water when we first got there and Cameron loved playing with a little doggie that was down there too.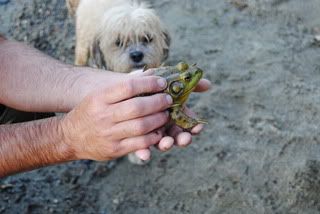 Watching the boats go out and Cameron giving them thumbs up!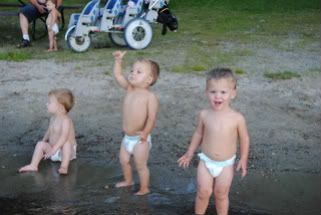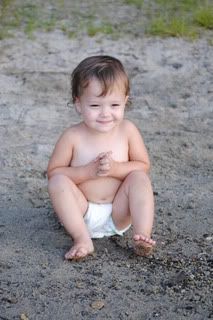 The little diva not wanting to get in the water because it was too cold for her.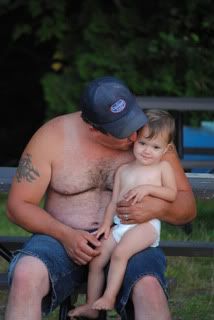 Throwing rocks in the water!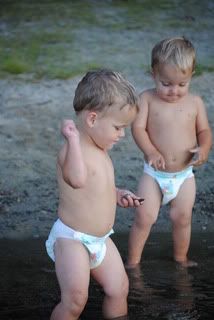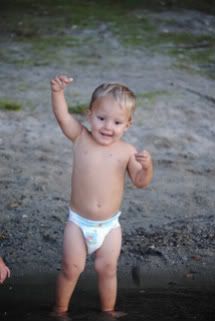 Splashing in the water!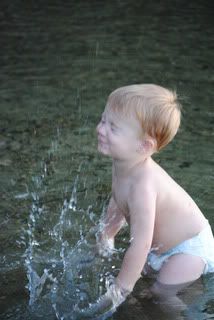 After the water play we went back to the campsite to get on some jammies and have a campfire. They thought the fire was awesome!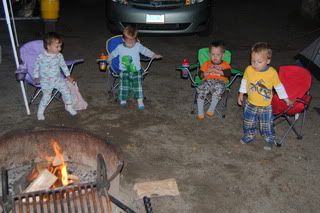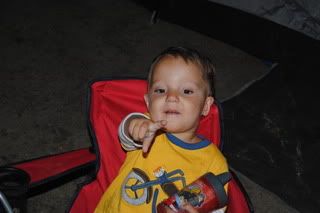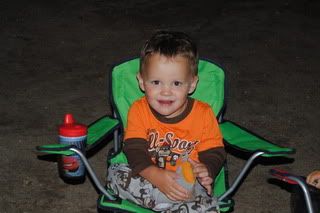 Having a little sing-a-long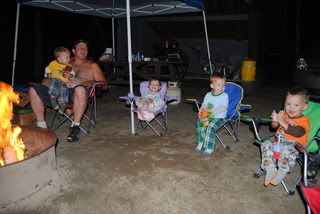 Cameron getting some love from Daddy!
Soon it was bedtime...and here is where our perfect day turned into a nightmare! It was 2 hours past normal bedtime and they were not ready just lay down and go to sleep. I am sure they were thinking "Are you freaking kidding me...no cribs...freedom to attack our siblings and you want us to LAY DOWN?!?!?" Three out of four were asleep within 20 minutes with Ben and I each sitting down by an air mattress with 2 kids on it, any guesses on who the lone ranger still awake was??? Of course it was Matthew, my pain in the butt in the sleep department since day one!
It took him well over an hour longer than the other 3 to finally give in all the while letting out his signature screeching cry and wanting a "PAAAAAAAAAAAAALLLLLLLLLLLOOOOOOWWWW". Unfortunately all the pillow's he wanted were being used by his siblings. I guess having 4 identical pillows doesn't mean a thing when you are almost two and want to have something to throw a temper tantrum about.
I tried ignoring him, I tried giving him my pillow, Ben's pillow, his pillow, I tried giving him the 1-2-3 warning, I tried cuddling him and nothing! All I got in return was him screaming "NO, MOMMY", hitting me, biting me and pulling my hair. Never has he thrown a fit that went on like this! Finally Ben got back from the shower and it was like a switch flipped and he laid down with me and fell asleep.
I was hopeful that this would be the end of the night issues and that we, and our neighbors, would be able to get some sleep but alas Cameron decided to wake up and start crying not long after we had all fallen asleep. This created a domino effect as Matthew awoke as well. His screaming ended up waking up the other two and I ended up with all three boys sleeping not with me but ON me for the remainder of the night and Ben ended up sleeping with Aubrey. Needless to say no one got much sleep at all and as the sun came up and woke everyone I was very nervous to see what the day ahead had in store for us.
Stay tuned for part 2!