Matthew was our Baby A, our little gate keeper, laying sideways at the bottom of my belly who kept his brothers and sister from making an early entrance. He was born at 4 lbs 3 oz and 16.5" long.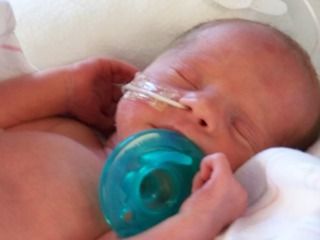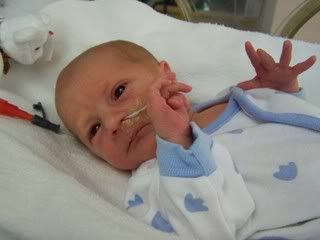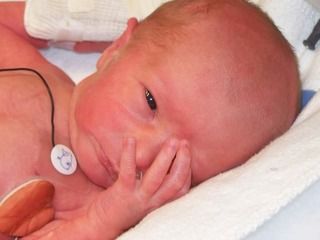 Matthew was the first baby we were able to hold and I was so scared because he was so tiny but my fears quickly melted away with this precious little baby in my arms. It was amazing to see him develop so quickly and was able to be released from the NICU at only 26 days old.
Matty, as we affectionately call him, has always been Daddy's Boy and is showing us that he is just as like his daddy on the inside as he is on the out. He likes to tease his brothers and sisters and thinks it is funny to see them get mad when he takes a toy and moves it just out of reach. He has become the most affectionate towards his siblings, always offering a little hug when they are upset or crying.
Matthew loves to clap his hands, dance, climb on daddy, wave and play with his toys. He army crawls like a mad man and tries once in awhile to get on all fours to crawl. Matthew is pulling up on everything but not yet cruising the furniture. He loves his Cheerios and yogurt melts but will try most anything that we offer him. He has been able to drink out of a sippy cup for awhile now and loves his formula while not a huge fan of water he will drink it if he is thirsty enough.
It is unbelievable that my firstborn preemie has turned into an almost one year old little toddler. He is now 27.5" and 21 lbs 8 oz!