Cameron was our Baby D, all over the place in the womb which is why I think he came out the smallest of the boys at 3 lbs 11 oz and 16.5" tall.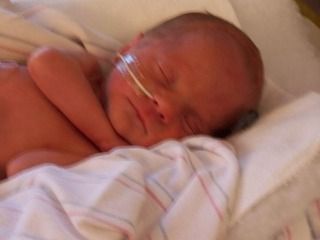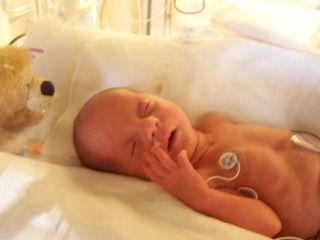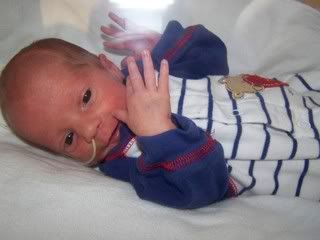 Our little Cam Cam Man is definitely a fighter, he was the only one to ever need to be on the CPAP or any sort of assistance, he endured two surgeries and he is still the most mild mannered of the bunch. Cameron was the first I was able to do Kangaroo Care with and I truly believe it was what helped him overcome the need for the CPAP. Within hours of kangarooing he was breathing perfectly on his own.
In the beginning he was the one with the least amount of personality, always straight faced and hard to get to smile, now that boy is the first to laugh, always happy and most talkative.
Cameron loves to wave, clap, talk and laugh. He plays peek a boo with his snuggy, or better yet his sister's. That boy is attracted to pink! He loves to eat even though he still needs some assistance getting it to his mouth. He prefers his straw cup over the ordinary sippies but is beginning to master both kinds.
My littlest man is trying to catch up to his big brother Brady and is now weighing in at 21 lbs 12 oz and 28" tall.