Brady was our Baby B, the one who never let us get a good view of his face and always was in the same position at each ultrasound. He was born at 4 lbs 10 oz and 17.5" long.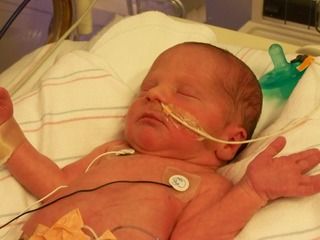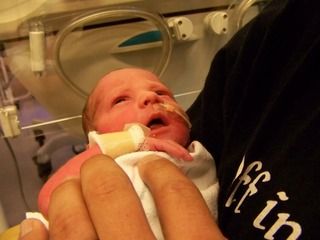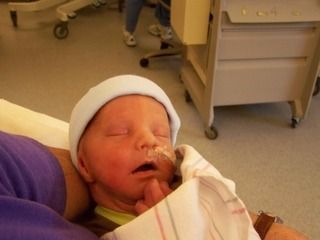 Our little Brady Monster was the first baby I was able to attempt to nurse and he also was a superstar in the NICU and discharged at 26 days. We thought we were going to be able to take him home sooner but he had a spell and his 5 day countdown reset. I think he just wanted to wait for his older brother so they could come home together.
Brady got his nickname Monster because he looked so big compared to the other babies when they were first born but we didn't realize how true it would be to his personality. That boy is a ball of fire! Into everything and getting everywhere. His favorite place to hide is in the bathroom and he tries to get into the toilet every time. Climbing stairs is his new passion and the minute the gate comes down so someone can go up he is hot on their heels.
Brady loves to wave, try to snap his fingers, say Ha Ha to everyone, and climb on anyone or anything in his path. Brady loves to eat and has never turned down anything we have given him to try. Our biggest challenge is getting him to only put one bite in his mouth at a time.
Our little Monster has turned into a BIG Monster weigh in at 25 lbs 3 oz and 29.5" tall.