We made it the week without pacifiers except for bed time and I didn't even end up in the nut house. Yesterday they were soooo crabby I was thisclose to giving in and giving them to the babies but I powered through. Aubrey is so funny she will wake up and stay in her room for awhile just so she can keep her paci. She is going to be mad at me when we take them away full time.
Sippy cups are going well. I think we will do a bottle at bed time another week or so then move on to cups before bed too. Cameron has discovered he can even drink out of something other than a straw cup. He has started showing a preference for juice over formula so I have been making him drink his entire cup of formula before he is allowed juice and he shows us his temper if he realizes his siblings are getting juice.
Matthew has learned to pull himself up now too so he and Brady think they are pretty cool standing by the couch all the time. I don't think it will be long before Cameron is right there with them.
The four of them have really started to show they can be sweet to each other when they want to. Aubrey likes to share her puffs by feeding her brothers. When we praise one of the kids the others will clap for him/her. When Cameron was crying the other day Brady crawled over patted Cameron's head, rubbed his back and crawled off. Matthew decided to kiss Brady when he was upset the other day. I love seeing them like that! Trust me they have their moments of evil too when they antagonize their siblings as well.
All four of them love to "give 5" and wave. Playing peek-a-boo is a favorite in this house too. Tonight's edition was all fun and games until someone got hit by the cabinet door, well, even then it was still fun until Cameron realized mommy was standing there and wanted me to feel bad for him...you have to check it out for yourself!
We had some house guests this weekend and the babies loved playing with their pal Peyton. We wish they lived closer so they could play together all the time. Come back soon guys!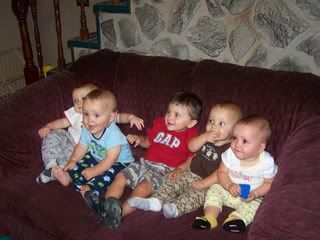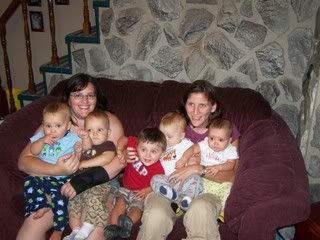 Monday we have baby massage class again. A local masseuse took classes to do infant massage and she needed to teach 3 people in order to finish her class so we were asked if we would allow her to teach us and a caregiver or two with the quads. We jumped at the chance to receive this as a free service that would benefit our babies. The first class was very successful with Aubrey our little diva, pretty good for Matthew and Brady and Cameron hated it! I hope that the second class goes better with him. I wish we had been able to start this when they were first home because I think it is a great way to calm them and promote good health. I wish I had someone to massage me everyday! LOL!
Ben and I are looking forward to next Sunday. As much as we love spending all the time we can with the babies we are taking a much needed day away to get some stuff for the party and try to find a gift for them so they have something to open on their actual birthday. Only 21 days until the big party! I hope my wrist can handle making 4 smash cakes for the babies to destroy and eat. I bet Cameron has no problem feeding himself cake...that boy is just like his momma, he could live on sweets alone. :)