We spent the last couple days camping at Bailey's with Grammie and Grandpa Brann. It was nice to get away and the babies loved all the extra attention they got from all of their grandparents friends. The weather was perfect and the babies were so well behaved.
We had a fun time in Old Orchard Beach, well most of us! Aubrey was NOT impressed with the cold water or getting dirty in the sand...she is definitely my girlie girl. Brady was thrilled to eat the sand, not so thrilled to get it taken out of his mouth. Cameron and Matthew loved playing in the sand and Matthew liked the water too. They loved walking around the pier and by all the shops. The amusement park thrilled them! Thank God for Auntie Kate who spent our vacation with us and helped out with the babies.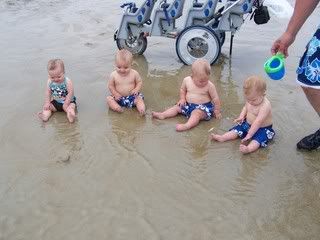 Mommy and her little quadlings!
Brady the Momma's boy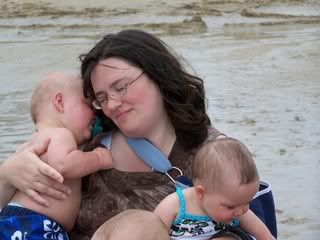 Daddy and Cam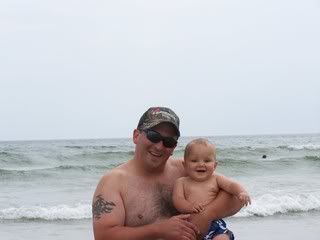 Daddy and Matty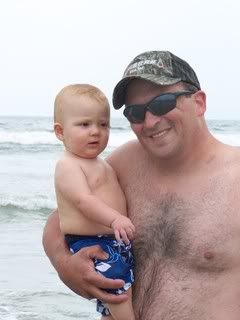 Daddy and Brady
Auntie Kate and her God Daughter Aubrey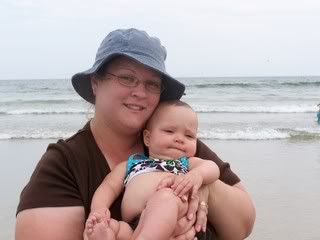 Cameron not too sure about the water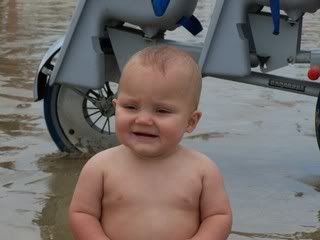 Brady ticked off we won't let him eat sand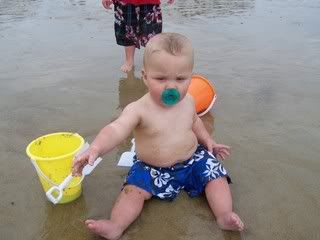 Matthew loving the beach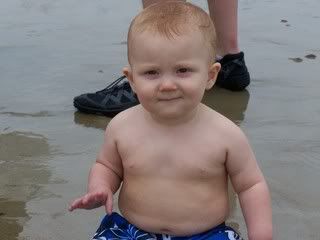 Aubrey the Diva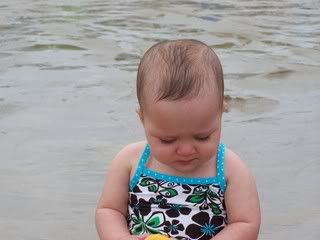 Playing with their pails and shovels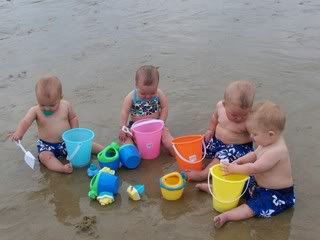 Everyone was amazed at the site of quads. Ben and I turned around once to see what Kate and the babies were doing and saw people hovering. I wonder if the novelty of it will wear off as the kids get older?
The "paparazzi"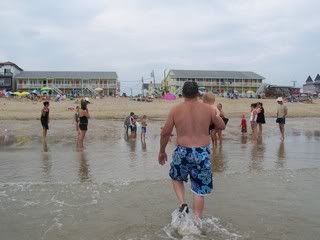 We went out to a yummy Chinese buffet and the babies tried some Chinese. They loved it but Daddy did not when he had so many bad diapers to change the next day. The broken wrist worked to my advantage...LOL!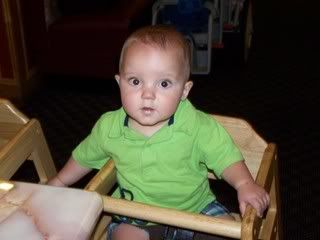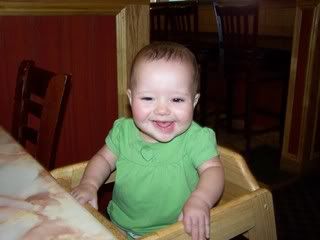 We went to Cabela's so Ben could look around and the babies loved the aquarium and all the stuffed game. Matthew was a little scared of the moose. He thought the moose was going to get him I think!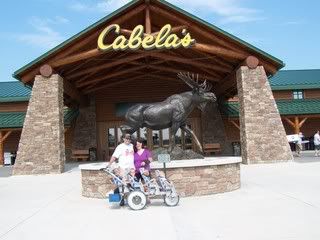 Before heading home we spent some time in the pool at the campground. It was a great vacation! I only wish it would have lasted longer. Since having the babies we have done more than ever before. Before I would work as much as I could, including several years of 7 days a week. Now I am willing to take the time off work and enjoy them...life is too short to regret not spending all the time I can with them. I love them more than I ever thought possible!