Last year we took the kids to the
Mount Washington Valley Children's Museum
over in North Conway and they loved it! So when the chance came up for a play date there with our quad friends we were all over it! The website did not mention that the downstairs rooms were being remodeled and there would be a big re-opening the end of March so we had to have our lunch out on a little picnic table in the entryway rather than in the lunch room but it worked and we had a blast playing all day.
A year later and it is still their favorite exhibit there!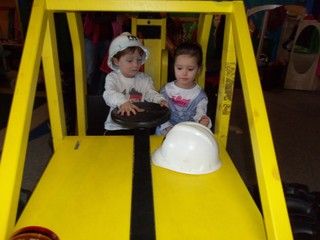 Neigh!
They were so excited to be able to climb up into the tree house and slide down the poles by themselves!
The train room!
One Police Car and 12 quads...not a great ratio!
Playing veterinarian with the Nadeau boys!
When it was time to go it got a little crazy and we didn't get a group picture. I think Cameron was the most upset by it...he sat at the table and pouted for a few minutes before getting over it.
We wish that we were able to get together more often with our friends but many miles and lack of time restrict us to a couple times a year. Either way we always have a blast!