Although I am able to be home with the quaddlers everyday with the I never feel like I get enough time to focus on them. With all the day care kids, paperwork, housework, etc the day just flies by. After a lot of thought and consideration I made the decision to give up my licenced day care and focus on our family. They are only young once and the past 16 months have passed far too fast. I am planning on babysitting a couple of kids around the same age as the babies to bring in some income yet be able to be far less stressed and do more fun toddler focused activities.
This past weekend we decided to venture out to Walmart and take the babies to Applebee's for the first time since they have been able to eat table food. We were pretty leery about them actually behaving well enough not to cause a commotion at the restaurant. We went shortly before they typically eat dinner and they were PERFECT! All four of them sat and colored while they were waiting for their meal then when it got there they ate fantastic in their booster seats. They even held our hands and walked to the van. What big kids!
In Walmart Matthew was insistent that he wanted a pink hat that said "camo princess". Ben of course was not happy about that! Matthew screamed bloody murder when Ben put it back but after a quick trip to the fishies all was well. We picked up our two weeks supply of diapers and headed home. Thank goodness for Parent's Choice redesigning their diapers. When we had used them when the babies were smaller they caused a horrible rash on Brady and the other babies got diaper rash as well. We are able to save $70 each month compared to when we were using Pampers and Huggies!
Sunday they had their cousin Zachary here to play with and we had a playdate with the Hamilton twins as well. Matthew drove them nuts with his constant kissing and hugging but they all seemed to have fun and played well. The babies were worn right out come nap time and slept well.
Ben and I got to go to the Sanel's customer appreciation dinner the other night and Grammie and Grandpa Brann came to put the babies to bed for us. It was nice to get out, have a great free meal and spend some time together but it was hard not being the ones to put them to bed.
The past week and a half Matthew and Brady have decided that 3:30 is the new 6:00 and they think that it is ok to wake up and not go back to sleep. This is making for 2 crabby kids and 1 especially crabby momma! I need to get them to start sleeping...any ideas?
Less than half the diapers and wipes for the month!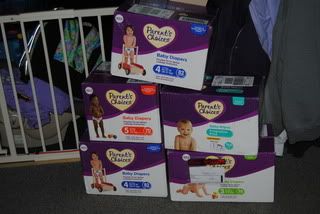 Four caged monkeys!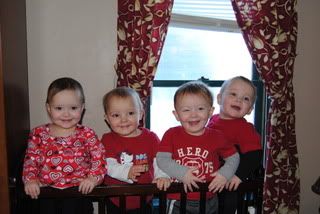 Can these kids BE any cuter???