The kids got to have their first experience with a slip and slide at Parker's birthday party and they had a blast. Typically Aubrey is a cry baby about getting splashed or water in her face but you couldn't tear her away from it! They all were running around with water guns soaking everyone, including me! At one point Cameron came over and squirted all over my pants then said "Look Mommy! You peed everywhere!" Crazy boy! I gave the five minute warning after almost an hour of water play and they were not at all happy about it but eventually they all got dressed and we were able to pack up to go grocery shopping. How many 2 year olds can be bribbed into doing just about anything for a trip to the grocery store? All four of mine!
Hanging with the birthday boy!
Splish Splash!
Plotting their strategy!
Uh Oh...Matthew has a water gun!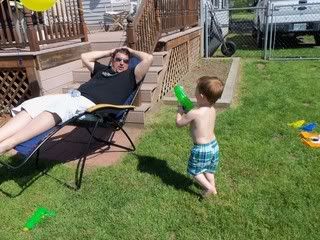 Brady's got a bucket!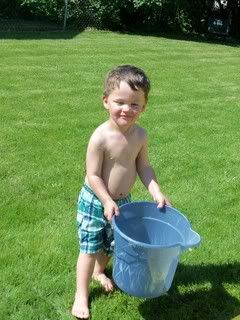 The girls come to help out!
It backfired!
Don't let her sweet and innocent look fool you...she was soaking everyone she could!