We got invited to celebrate another set of quads first birthday with them this weekend so we decided to make the 2.5 hour trip to go meet them and be there for their special day. The ride down was fairly good other than Brady thinking he should stay awake the majority of the ride so he was in a super good mood by the time we got there.
We arrived a little early so we thought we would let them run off some of their energy outside since it was such a beautiful day. What it turned into was them thinking they were big kids and could climb up and down the steps without railings and we ended up with some road rashed faces.
After we had enough of that we went inside and they proceeded to pop a bunch of balloons leaving glitter everywhere! They did however enjoy the popcorn and cotton candy that was part of the circus themed birthday party. Brady got to take a little time out with me outside because he was acting like a spoiled brat throwing fits at everyone and everything.
The birthday boys arrived and so did a PETTING ZOO!!! The quaddlers loved it! It was great to meet the fabulous foursome and their parents. The only thing that was missing was a group picture...next time for sure! I have to say it was one of the most fun parties we have ever been to. Happy Birthday Jackson, Henry, Harrison and Matthew!
We left a little early because our quad squad was more than ready for a nap and we had a long ride home. They were asleep before we left the parking lot. Made a stop at the mall looking for some red swim trunks for the boys with no success and then took them out to dinner at the Olive Garden. Dinner was awesome and the quaddlers were amazingly well behaved all seemed perfect until we reached Tilton and I realized I didn't leave enough money for the bill! Thankfully the manager was awesome and let me put the balance and tip on my debit card.
The trip home was a complete disaster! Brady cried the whole time we were in BJ's and then the first 20 minutes of the ride home. As soon as he settled down the other two boys decided to take their turn being miserable and cried until I climbed into the back of the van to sit with them. If any of you have ever put two rear facing car seats in the back of a minivan and tried sitting in between them you will be able to imagine what a comfortable ride that was!
Playing outside before the party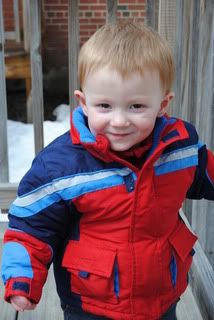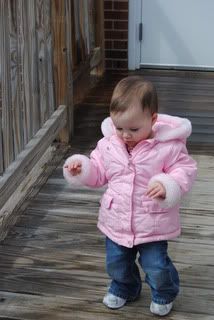 The petting zoo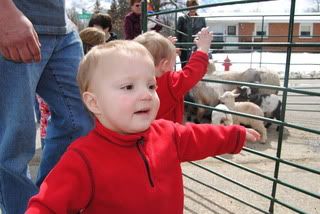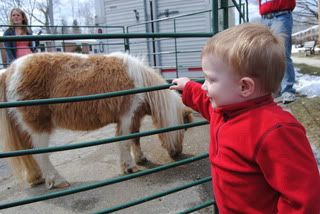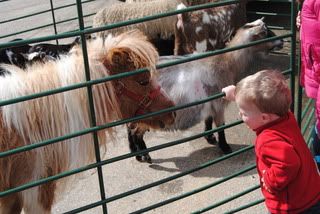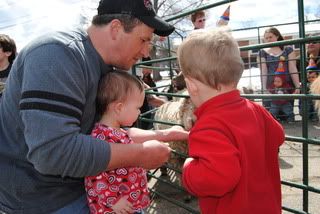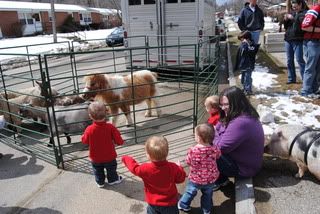 Happy 1st Birthday to the Nadeau Quads!