Matthew and Brady are scheduled for their circumcision and hearing tests tomorrow then all they have to do is pass the car seat test and keep eating and be apnea free a couple more days then they are heading home! They think by the end of the weekend Brady will be home then Matthew close behind. We may be transferring Aubrey and Cameron to a hospital closer to my aunt and uncles for the remainder of the time. They need to still grow some more and learn to take full bottles so they can start thinking of coming home but it will be a bit for them.
Brady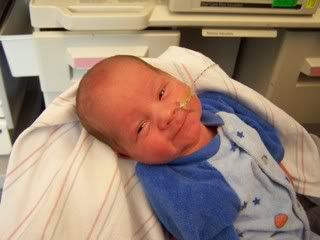 Aubrey
Cameron
Matthew
Cameron having a bottle!
Aubrey trying to keep up with her brothers!
Matthew and Aubrey side by side...a pound makes a huge difference!