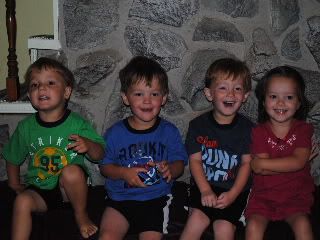 Things we love about this age:
*They can play independently while we complete short tasks.
*We can visit with friends without having to hover over them.
*The things they do and say always bring a smile to our face.
*They look up to Mommy/Daddy and want to be like us.
*No more cutting into mini sized pieces...huge time saver.
*They can undress/dress themselves.
*They can swim (with their puddle jumpers).
*They love to sing.
*They are always learning.
*They role play so well.
*They are willing to try new things.
*They express different emotions and can tell us why they feel that way.
*They can answer our questions.
*THEY ARE SOOOOOO FUN!!!!