Today was a great day in the Hickey household! Ben had his 1 year check and it came back clean! His chance of a recurrence went from 70% down to less than 30% and once he gets through then next 4 years then they will officially declare him cured so lets hope the next 4 years are as uneventful as this one has been.
The babies Halloween costumes are done thanks to help from their Auntie Sam and with any luck I will have the prop for the stroller done tomorrow so we will be all ready for the costume contest at the Legion on Saturday. I can't wait to share pictures!
Tonight the babies had spaghetti for the first time and it was quite a sight and quite a chore to do clean up tonight but it was so fun to watch them!
Matthew gobbled it all down, fistfuls at a time like he does with EVERYTHING!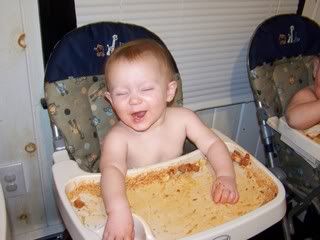 Cameron is a little anal like his mom! His food can't touch and he never likes to have a mess on his hands...LOL!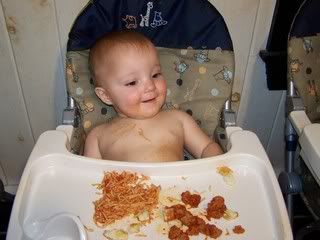 Brady is showing me how good his garlic bread is!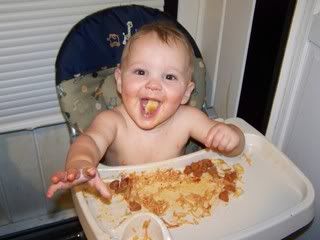 Aubrey was loving it all!