We hated not having a swing set last year so this year we were determined to get one up in the backyard. Bumpa and Memere both decided to give us some money towards the swing set instead of gifts for their birthday and Christmas...THANK YOU! Also we did a fundraiser with the day care to help pay for a portion of it...THANK YOU to all that sold and bought! And finally Scentsy will be paying for the rest...our "fun" money will be going towards paying it off for the next couple months.
It was a big job but Daddy, Uncle Tom and Auntie Kate got it done in no time! I am not much of a builder so I contributed by water sealing it when it was done...LOL! The kids love it and I know it will bring hours of enjoyment for years to come!
Cameron and Brady ready to work!
Taking a break after all their hard work!
Tower #1!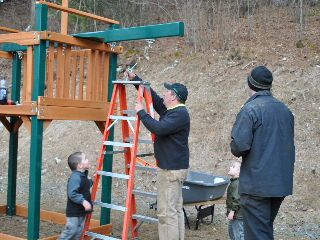 Ok, what's next???
Tower #2!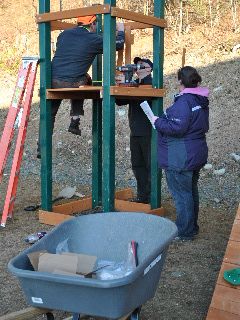 Twisty slide!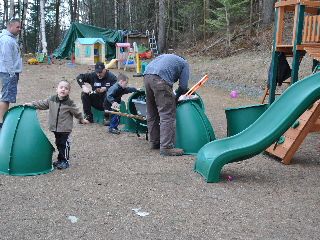 Ben the builder! Can he build it? YES, he can!
All done!