For Christmas the kids got a ton of games from different people so we have been doing game night at least once a week and trying to teach the different games, taking turns, using patience and of course how to be a good sport...not that that always happens...especially with one of them!
Playing the Doggie Doo Doo game from Uncle Kyle and the kids.
Chutes and Ladders from Auntie Jade.
The Monkey in the Tree game from Madisyn and Makenna.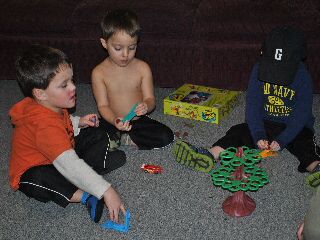 Mr Poor-Sport!