We had an amazing day at Storyland with three other fantastic quad families. It is so nice to spend time with others who can truly relate to what you are dealing with.
Ben and I met Danielle and Art MacLeod at Brigham and Women's when I was around 26 weeks pregnant. We shared the same OB doctor, the same NICU nurses and their quads were born on our quads due date. Unfortunately even though we live in the same state we have only managed to get together a few times. Danielle got to be my planemate as well as my roommate when we went to Texas in May and I had such a blast with her!
We first heard about Lindsay and James Nadeau when their boys were born and they made the news. So in common stalker like fashion I knew I had to find her and chat! I mean how can we have another quad family in our state that we didn't get in touch with. I googled them and found their blog and first got in touch with them that way. Since they we have become online buddies and got to meet in person at their boys' first birthday party last spring. We look forward to getting to spend more time with them in the future.
I met Teri Duggan in Texas and I knew the moment I met her that she was so much fun and so sweet. Her husband Josh was temporarily stationed in Rhode Island so we managed to get them to take a trip up to the North Country with their girls to come play. Our kids hit it off, I even think a couple of my boys have crushes! I wish they weren't moving so soon!
We were so happy that everyone made the trip with their quaddlers to come play! Even though the heat was horrible we had a fantastic time!
The Duggan Quads, The Nadeau Quads, The MacLeod Quads and The Hickey Quads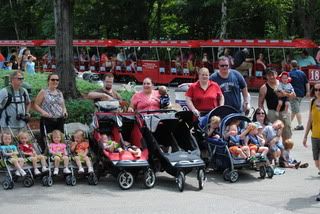 Last year vs. this year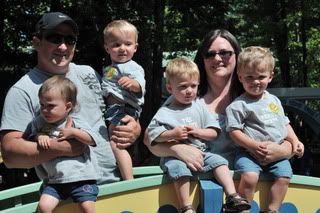 Sitting with Humpty Dumpty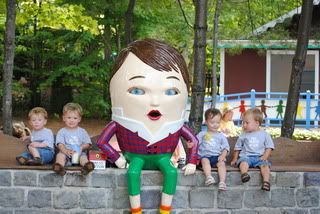 The Hickeys at the play ground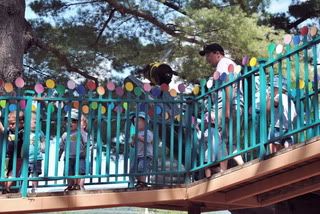 The Nadeaus and MacLeods playing in the playground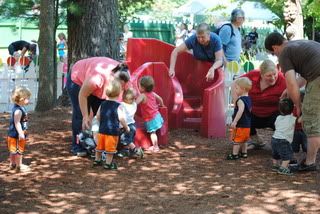 The Hickeys, Duggans and MacLeods tearing up the sand box while the Nadeaus have a little snack!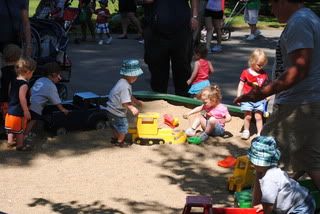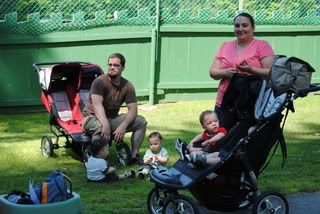 Milking the cow
Cooling off in the watering sprinkler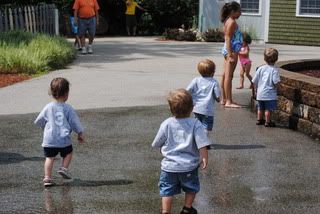 The final 8 riding the choo choo. Teri and I got a laugh hearing people wonder out loud if they were octuplets!