Our friends at Squeegee Printers made the quads their own baseball shirts for when we are spending time doing the Little League in town and they look adorable in them! Sunday we had baseball pictures at the ball field and then the parade for opening day. I was so bummed to find out that the picture guy planned on photographing our team for us after I already sent Ben and the babies on their way to get ready for the parade.
It was a LONG day for our little family! We all were up and getting ready for breakfast when Cameron's breathing seemed very labored and our ear detector showed that he had an ear infection so Ben took him to the ER while I got myself and the other three ready and up to the field for pictures. Luckily Cameron only needed a breathing treatment and was able to come home very quickly, we were a little nervous that he was going to be staying there after finding out his O2 level was only 82% but a breathing treatment perked him right up and he was rearing to go!
After the pictures and parade we headed to Walmart to get somethings to make our Mother's Day crafts and drop off Cameron's prescriptions. We ended up at Walgreens and I have to say it is our new pharmacy of choice! They were so helpful and friendly...HUGE change from our local Rite Aid. The pharmacist questioned the prescription because he said that he had never seen that prescribed to a little guy and after a quick call to the ER he discovered that he was correct in worrying because it was the wrong prescription. Lovely, huh?
We went to the Littleton Food Co-op for some groceries and I had the bright idea to let the quaddlers each take a mini cart and drive it around the store with the groceries...let's just say this wasn't my brightest idea ever and it will be awhile before we attempt to let them drive anything in confined spaces for awhile. They thought the object was to see how many od their siblings carts they could hit and who could get to the end of the aisle the fastest. Luckily the store was very quiet at the time!
Here are a couple shots of the quaddlers in their baseball gear!
Waiting for the parade!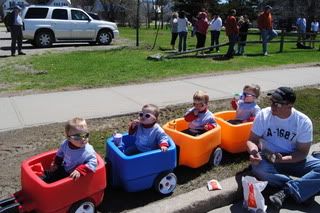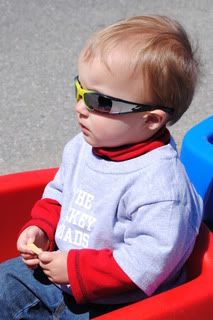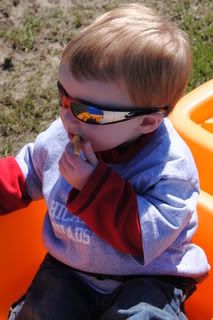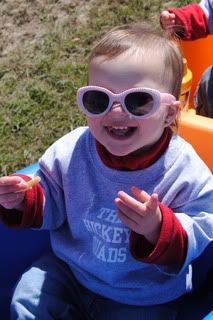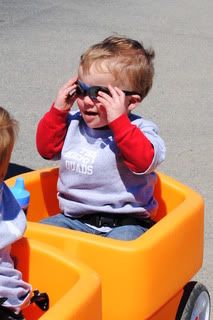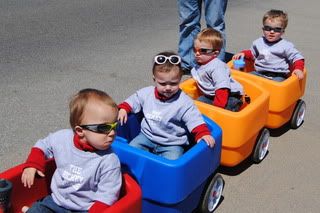 Our Team!