The babies had a great time on our mini vacation this weekend. They were the best behaved 9 month olds that you could ask for! They all were smiley and never once while we were out were they crabby. They even slept better in the hotel than they do here at home even. We crammed a lot into a short amount of time but it was nice to see everyone and it makes me wish my family lived a lot closer.
We started our trip off Saturday morning and made a stop in Tilton for feeding and some pajama shopping. I could have gone crazy in Carter's but was well behaved and left with only one set of pj's for the boys and a shirt for Aubrey. Next up we headed to Lee to see the MacLeod family and let the two sets of quads play together. We had so much fun and wish they lived closer it was so nice to visit with people who really understood what our life is like. My babies succeeded in tearing up the place and trying to bully the other set. They obviously think that the 2 months older they are gives them the right to be the boss of the other babies. What fun they will be once all 8 of them can run around and cause some trouble! LOL!
The Hickey Quads and the MacLeod Quads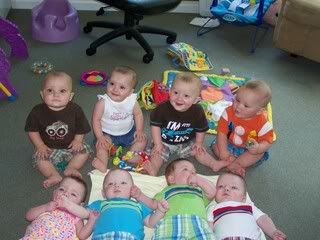 Next up we continued on to the hotel to check in, set up the pack and plays and feed the troops before heading to my aunt and uncle's house for pizza. Almost the whole gang was there so we were able to visit a little and eat before it was time to retreat to the hotel and put the babies to bed for the night. Matthew was not at all happy to go to bed! My little party animal wanted to stay up, as always! He succeeded in waking Brady twice and Cameron once before falling asleep at 8:30 and he managed to keep himself asleep until 5 am with the exception of one 9:30 paci retrieval. The others slept until 5:30 am the next morning also. I was not looking forward to being up with them because they were in a strange place.
Sunday morning we were all up, showered, dressed, babies fed and ready to roll at 7:15 am so we went across to the Panera Bread to get some breakfast. Mind you the babies all ate a bowl of Oatmeal with Blueberry and Pears and a 4 oz bottle but when our breakfast came out you would have thought we had starved them for DAYS! So I ended up returning to the counter and getting them a blueberry muffin to share. Everyone but Cameron was loving us feeding them small bites from our fingers and it took a while but I finally realized that Cameron would take a bite from the fork but not my hand. He always needs to be a little different! Once he tried it he couldn't get enough either. The four of them managed to polish off the entire muffin. Boy are we in trouble when they start eating real food!
Leaving the hotel all dressed in their best Red White and Blue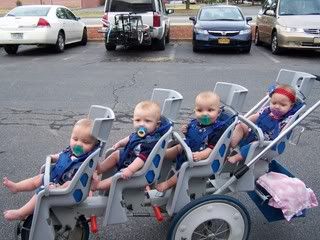 Aubrey loving the blueberry muffin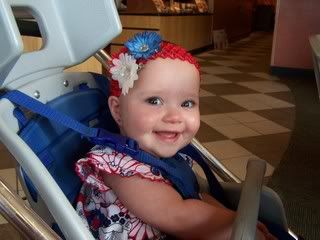 Cameron saying "I will not open my mouth except if you have a spoon in front of it!"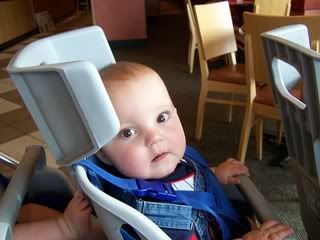 Matthew yelling for another bite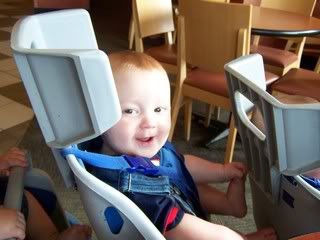 Brady says "MMMmmmmmm"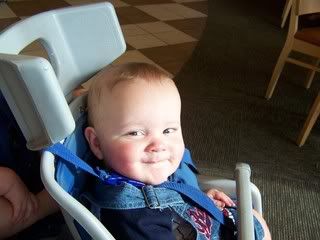 After breakfast we went back to the hotel and I gave the babies a nap while Ben went to the store and to find Dunkin Donuts. Then we gave them bottles and headed to the Stone Zoo to see the animals with my Dad, brother,nephew and my youngest cousin. They liked to look around and see the animals and Aubrey did not whine once about any of the animals so that was a nice treat for us. She is so like her mother.
The six of us at the zoo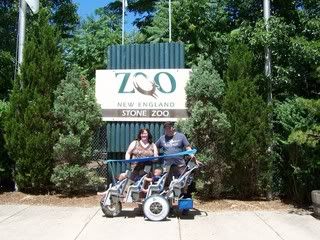 My brother Kyle and nephew Evan checking out the wolves. Evan thought that this one was real!
Daddy and Babies ready check out the zoo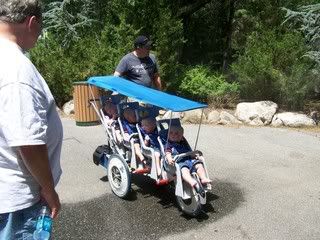 Me and the Babies posing with the flamingos!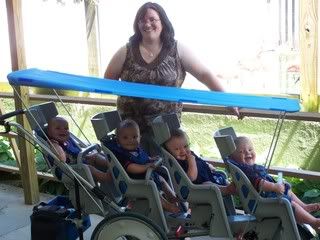 Matthew wasn't too sure about this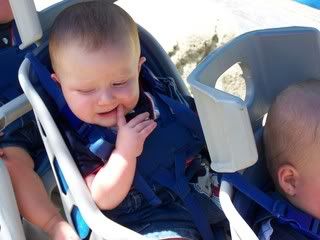 Happy Cameron watching the people and animals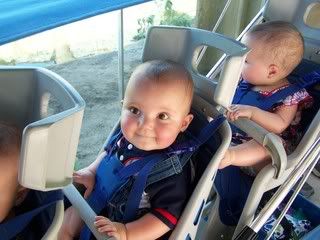 Aubrey loved the flamingos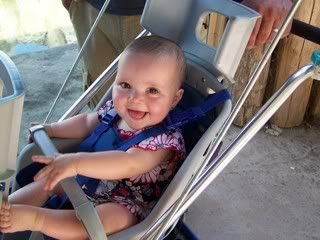 Brady was excited about the bears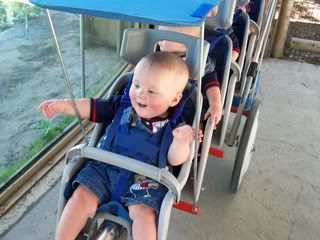 Getting cooled off in the fan that blew a nice mist of water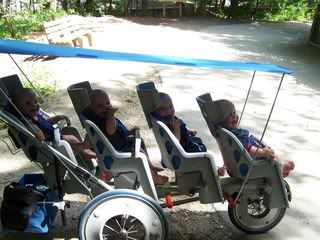 After the zoo we headed back to my aunt and uncles for the pool party and BBQ. It was the quads first time in a big pool and we weren't sure how they were going to like it. Brady is definitely the water baby of the group, he loved it from the first dip. Before long the other three got acclimated with it and were floating around as well. The boys all figured out that if they kicked their feet they would move so that was a fun trick for them all. I wish I had had a little more time to visit with everyone but the babies kept me pretty busy the entire day and before long it was time to take pictures and say good bye so we could bring the babies back to the hotel for bed.
Aubrey thinking..."Do I really want to do this?"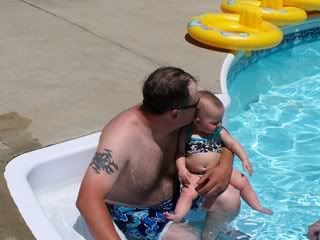 ..."OK, fine! As long as I have my paci and Daddy"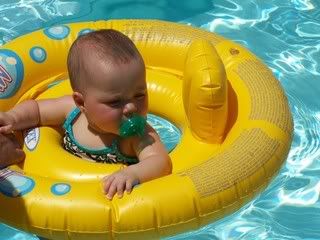 Cameron figuring out how to splash
Brady playing ball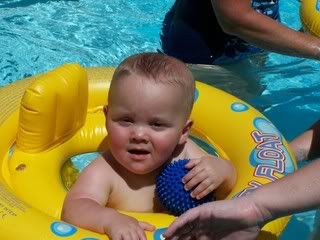 Matthew chilling out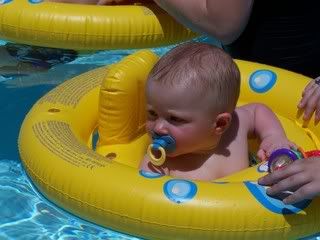 Ben and Aubrey, Me and Cameron, Courtney and Brady, Melissa and Matthew
The girls
Courtney, Jamie, Caitlyn, Aubrey, Kari, Melissa and Cherise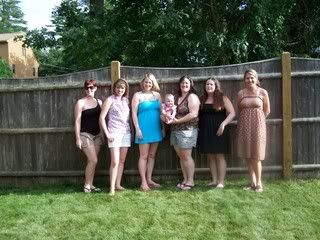 The guys
Karl, Jeff, Jason with Cameron, Mike with Brady, Kyle and Evan, Matthew M., and Ben with Matthew H.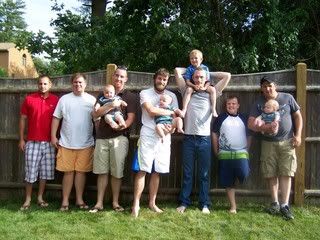 All the McAllister Cousins except for Brandon and Dan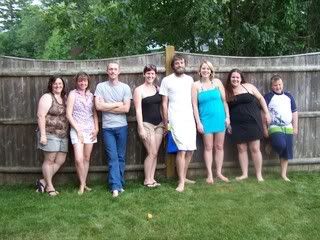 The babies were ready for bottles and bed early Sunday night. After a day in the pool and heat they were soooooo tired they slept from 7pm-5am with only 2 wake ups for pacis. I think we need a pool! LOL!
Monday morning we got all our stuff together and decided to take a dip in the hotel pool before heading out. They liked that pool even more because it felt as warm as their bath water. Cameron figured out how to blow raspberries and make bubbles in the water so he amused himself with that trick for a bit while everyone else took turns swimming around the water.
Ben and I each grabbed a quick shower and loaded the van up for our journey home. 6 lost pacifiers and 13 shoe stores later Ben settled on a pair of sneakers and we arrived home 8 hours after we left for our 3 hour ride. Understandibly the babies were all crabby by the time we went home and as I am typing this I have gone up to replace pacis, pat backs, etc 12 times so far. I think it is going to be a LONG night!