Ben cleaned up the yard this week and put up the infant swing on the swing set so the babies so we could see if they would like to swing outside. They sure did! All 4 of them laughed and smiled and were not happy when it was time to give one of their siblings a turn.
Yesterday the babies, my dad and I took the trip to Jay, VT to see my nephew play in his tball game. I cannot believe he will be 5 next month! We went to lunch after his game and he was so funny! He told me that if I needed some alone time I could go look around the store and he would watch the babies...LOL!
Today we went to the greenhouse to get stuff for the garden and grocery shopping then we had some company for a cookout. The babies had a great time playing with Uncle Dan and when Auntie Allison came back from her shower they had fun with her too. We wish they didn't live so far away so we could spend more time with them. Uncle Tom and Auntie Kate came for a cookout too then helped with bedtime. It is nice to have them there for bedtime feedings a couple times a week. It goes so much easier since they are not patient enough to wait for a bottle when it is bed time!
I have to share pictures of them on the swing, even one with Brady sitting on the big boy swing with Daddy and one of Aubrey in my favorite onesie, it says "worth the wait". That is so true the moment they were born all the hurt of wanting a child was erased and replaced with so much joy.
AUBREY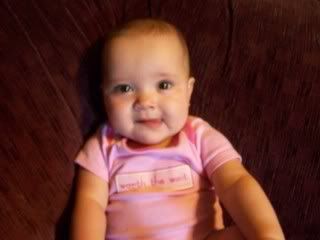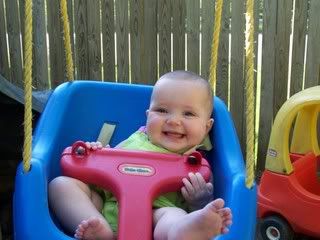 CAMERON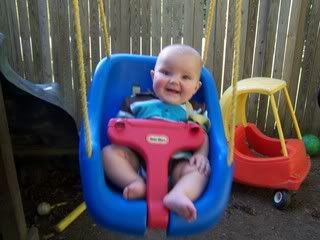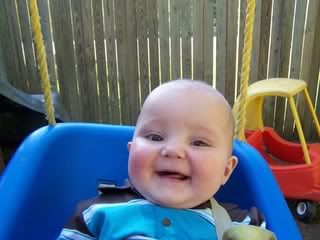 MATTHEW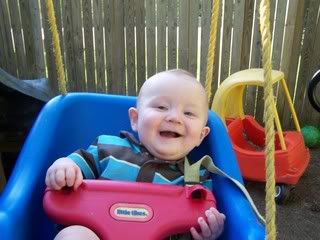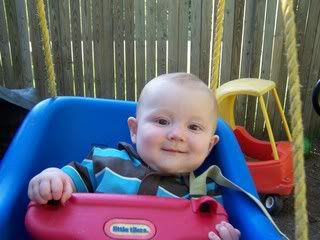 BRADY