Today was the first day the babies took baths in the sink with their bath rings. Brady has outgrown the baby tub so we decided to move him into a big boy bath and he did so well we tried all of them in it. With every first we are excited to see the babies doing new things but also saddened because it means they are getting bigger. I cannot believe they will be 4 months old Sunday!
Brady in the sink!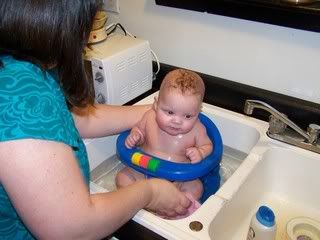 Aubrey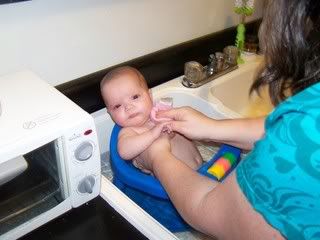 Matthew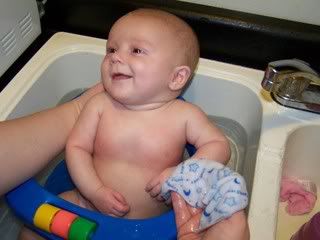 Cameron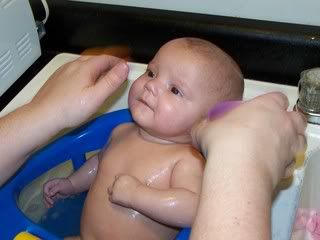 Yesterday in the mail we received some free stuff from companies that give out freebies to families of multiples. Gerber sent tons of coupons for free baby food and Gerber products as well as Gerber Baby onesies. Beech-Nut sent coupons for free baby food and cereal, bibs and a bowl and spoon for each baby. Enfamil had previously donated 16 cases of formula which has helped out tremendously considering they go through 13 cans of formula per week!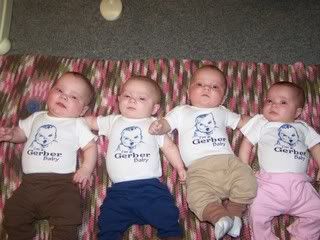 Sunday we are taking the babies on our first trip away! We are heading to my aunt and uncles in Massachusetts who we stayed with before my hospitalization and during the babies stay in the NICU. I think we are crazy looking at my list of all we need to pack for a two night stay. We plan on meeting the newest quads that were born to a New Hampshire couple on our quads due date! They are also 3 boys and a girl. We are so excited to meet them. Also while we are there we are going to visit the NICU. While we were there we read the stories of many families and looked at the photo collages that the parents had made on the walls. These stories gave us so much hope while we were waiting to deliver and we are hoping to do the same to other families by bringing the collage we made to display.
Lastly, tonight a dear friend is in my thoughts. Eve suffered from infertility like we did and her prayers were answered when she found out she was carrying boy/girl twins. Yesterday she was almost 25 weeks when at a routine ultrasound she was devastated to discover that her little boy, William, no longer had a heartbeat. His sister, Abigail, is still going strong and we are all hoping that her brother will be her guardian angel and help bring her to a safe delivery. You can follow her story at http://infertilityrocks.wordpress.com/