Yesterday was the babies' first Halloween and we dressed them up in their Halloween onesies but we didn't go trick or treating with them. Ben was too worried about all the people and germs so we went to Tom and Kate's and got to see all the kids trick or treating from the warmth of their home. We can't wait for next year so they can dress up and join in on the fun.
We have been taking the babies out for a walk when it is warm enough to get them fresh air. The first day was a chore getting them all bundled up and loaded in the van but each time is getting a little easier. It will be a ton easier when Cameron is out of his car bed and into a regular seat so we can use the two snap and go strollers instead of having to take Aubrey and Cameron out of their seats and put them into the jogger and then back into their car seats after we are done.
Ben has his last chemo treatment this week so the babies and I will be having overnight guests staying to help out while Ben is recovering. I think they enjoy all the extra attention they get when someone new is here. Ben and I are able to tune out all of their grunts and groans all night long but other people have a harder time since they are not used to hearing it all night long so the babies are getting checked on constantly when someone else is here.
Happy Halloween!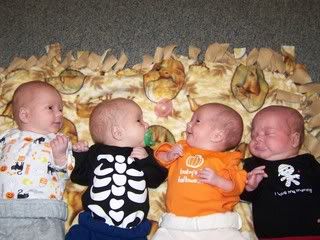 Cameron and Aubrey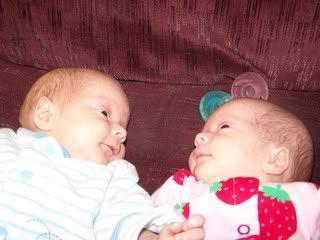 Matthew and Brady
Matthew and Aubrey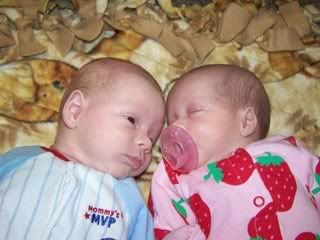 Cameron and Matthew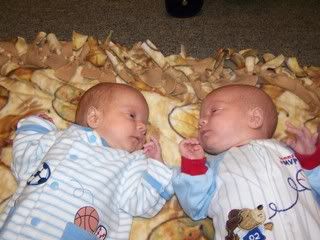 The four of them hanging out with Brady being a grump!