The past week has not been a fun one in our home. Not only were all the quaddlers sick but some of their little buddies from day care have been sick as well. A lot of Lysol spray was used over the weekend and we are starting the week off on a better foot.
Friday Ben and I went to his hearing for his SSI appeal for the year of benefits from when he was out of work with his chemo treatments and recovery and luck was finally on our side because he WON his appeal!
After we left there we got to go meet my beautiful new niece, Ella Grace, who was born early Friday morning. She looks just like her big brother, Evan, and has so much hair!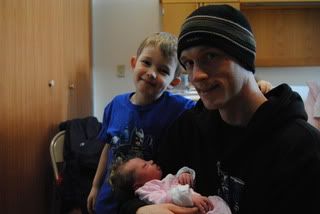 When we got home my mom said Aubrey had been having trouble breathing and we decided to bring her to the ER. After some blood work and a chest x-ray it was determined that she has pneumonia so she ended up on some stronger antibiotics and is feeling much better now.
It was a weekend of babies! Saturday was Auntie Allison's shower for baby Aidan and Ben and I put together a cake for the celebration. Lots of frustration went into making the animals out of fondant and gum paste but they turned out ok!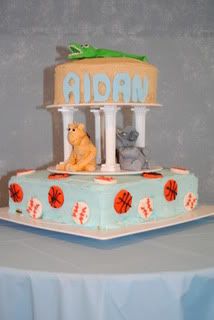 Sunday Uncle Tom and Auntie Kate watched all the quaddlers while Ben and I went to BJ's to stock up on food and paper goods for the next few months, went out for lunch and hit up the outlets for some new sneakers for the babies. When we got home I asked Aubrey if she missed us and she said "Nooooooo" then I asked if she has more fun with Auntie Kate and Uncle Tom and she said "YEAH!" What a little punk!
Aubrey got weighed at the ER on Friday and Ben said she was over 20 lbs! I didn't believe it of course so we did a little weigh in tonight and sure enough she was almost 22 lbs. Matthew weighed in at 25.5 lbs, Cameron at 26.5lbs and Brady was tipping the scales at almost 30 lbs. Unbelievable!!!
It has been soooooo cold lately! I cannot wait for it to warm up some so we can play out in all this snow we have gotten!