All the babies are so close to rolling over we wish they would just DO IT! They get so frustrated as they spin sideways and can't quite get over. Matthew is doing great on his Zantac, spitting up rarely and in a MUCH better mood. It is such a relief not listening to him cry for hours a day. Spitting raspberries is the cool thing in our home. They think they are soooo funny when they do it. Cameron has mastered the art of having his spit land on his forehead. Crazy kids!
One of my online friends, Trinity, made some headbands for Aubrey. If you love them you can check out her creations by becoming a fan of The Pampered Pea on facebook!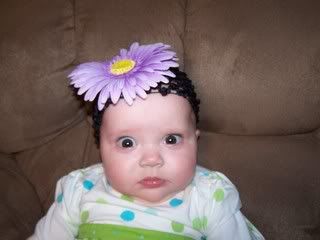 The babies had so much fun playing with Kennedy this week and she was a big help to us too. We wish she never moved away because they love her so much and she would be a great baby sitter when they get a little older.